Train in advanced first aid and you'll be ready to help at any event, from a festival to a football match.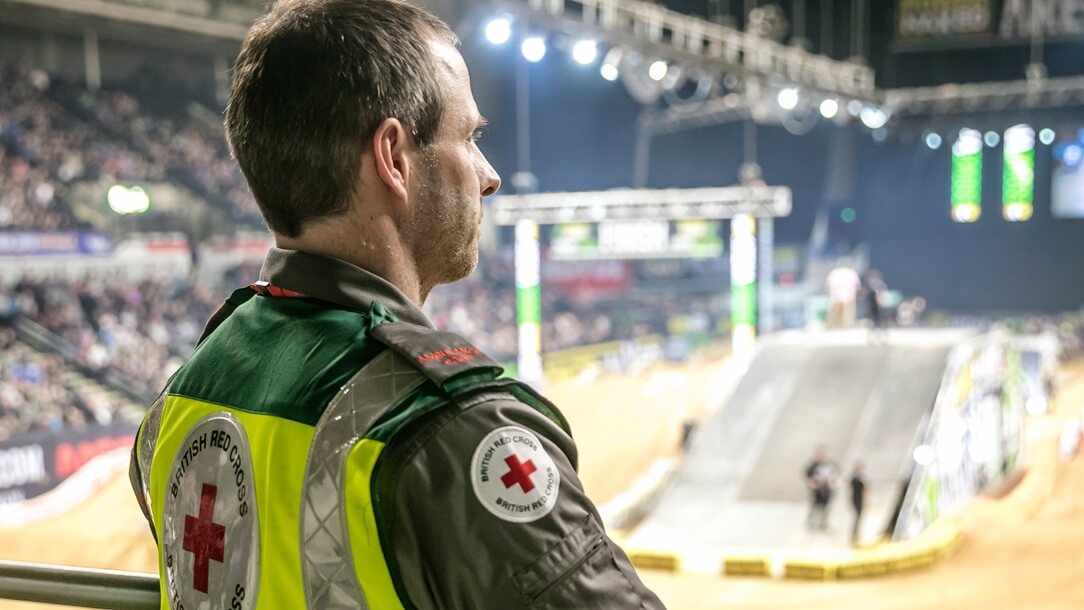 Whoever you are, whatever skills you have, you can share your kindness by volunteering with our event first aid team.
From football matches to music festivals, our volunteers play a vital role in keeping the general public safe at events all over the UK.
We have a variety of roles available:
Become a logistics volunteer
We also have logistics volunteer roles that work alongside our first aid volunteers to:
maintain first aid equipment
transport kit and set up equipment at events
For more information on becoming a first aid logistics volunteer, make an application and talk to our recruitment team.
How to get involved
We are currently recruiting in:
Become a first aid volunteer
Our event first aid volunteers are fully trained in advanced first aid.
They are ready to help at any occasion across the UK, from a community event to a stadium-sized rock concert.
When accidents happen or illnesses take hold, their knowledge can be vital in saving lives or preventing further injury.
How to get involved
If you are interested in becoming an event first aid volunteer, please email efavolunteer@redcross.org.uk with your full name and the location where you would like to volunteer.
Become a paramedic volunteer
You will be providing paramedic skills to supplement and enhance the medical provision at events across the UK.
This will include provision of patient care, assistance with teaching of clinical skills and helping to audit care provided at events.
How to get involved
Our paramedics are based all over the UK.
Sign up to be a paramedic volunteer today:
What we can offer you
Volunteering at an event will give you the chance to:
help people in need who are ill or injured.
What you can expect
We'll give you all the training and protective clothing you'll need to do your role.
As a first aid volunteer, you will need to attend regular first aid group training.
You will attend a range of events to provide or support first aid.
You must be 16 or older to volunteer as an event first aider.