2020: a year like no other
2020 was the British Red Cross's 150th year. It turned out to be a year like no other for us all
Last updated 28 March 2023
Over the past year – from the first national lockdown, to the roll-out of the Covid-19 vaccination programme across the UK – our volunteers and staff have adapted their ways of working to make sure that even with ever-changing rules and restrictions, they can continue to do what they do best.

For the first time ever, we have documented the stories of these people doing just that. 'A year like no other: British Red Cross at 150' is a film telling the story of one of the most difficult years we have all faced.
We follow people like ambulance support volunteer Kaye, who has been with the British Red Cross for more than 37 years.
Throughout the pandemic, she has been transporting people to and from hospital, including patients needing treatment for Covid-19.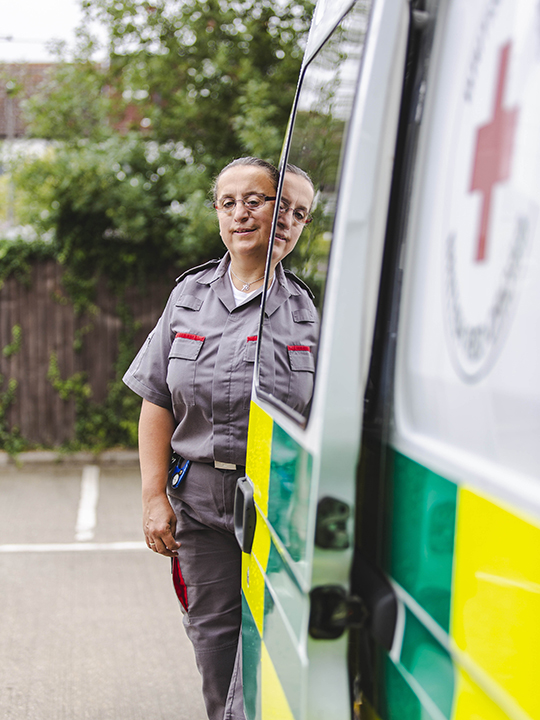 A sense of purpose
"I discussed it with my family and they very much supported me in what I wanted to do and still support me now," said Kaye.
"They're very pleased to know it gives me a sense of purpose during the pandemic. It's nice to feel that you're playing a very big part in it."
Working under ever-changing circumstances
We see the year progress, from the initial shock of the first national lockdown, when our ambulance support volunteers are seen scrubbing down the insides of their ambulances multiple times a day, to the sadness felt by all as Christmas plans for many were cancelled, and a third lockdown loomed.
One volunteer, Carrie, starts the year as an ambulance support volunteer and finishes it training other volunteers in the vaccination programme.
The documentary was produced and directed by our multimedia producer Jessi Gutch, who has been with the British Red Cross for three and a half years and explains that filming the footage was a challenge in itself.

"When the first lockdown hit, we realised that it was our duty to document this historic moment for our archives," said Jessi. "We had to constantly weigh up risk and benefit for every single shoot that we did, and it felt like parameters were changing all the time."

The documentary also features the stories of our independent living volunteers, including Jeff, who started picking up prescriptions for people who were shielding or isolating back in April. By the summer, he had delivered 1,700 prescriptions.

"It's so rewarding," said Jeff. "I feel like I'm helping people. Some are desperate for a chat and I'm probably the only person they've seen all day."

Cameras were there for the summer re-opening of our shops, as we all made our way back into a world that had changed beyond recognition during those first few months. We hear from people working in refugee support, mobility aids, and volunteers at food banks up and down the UK.
The Red Cross response in numbers
As we reflect on the events of the past year, remembering the lives of those we have sadly lost, we want also to take the time to thank our volunteers, staff and supporters for all they have done in helping us reach as many people in crisis as possible.

Since the start of the pandemic, the British Red Cross has reached more than 1.5 million people across the UK.
This includes...
Making more than 100,000 food deliveries to people's doorsteps
Making over 14,000 medicine deliveries to those who were otherwise unable to collect their prescriptions
Supporting over 32,000 people through our ambulance service, including patients receiving treatment for Covid-19
Taking over 21,000 calls on our Coronavirus Support Line, where volunteers offered practical and emotional support to those who needed it
Supporting more than 5,000 people through our Hardship Fund, providing cash grants through partner charities to people economically impacted by the pandemic
Giving accommodation advice to more than 5,000 refugees and people seeking asylum
Supporting in the vaccine roll-out, with over 1,000 volunteers and staff deployed in vaccine centres across the UK, helping around 180,000 people to receive their vaccinations.
Globally, the Red Cross Movement has reached an incredible 1 in 30 people since the start of the pandemic - none of which would have been possible without the efforts of people like those seen in the documentary.

"What stood out to me most – but didn't surprise me – was everyone's dedication and professionalism," said Jessi. "We all like to think that we're someone who would volunteer and do kind things like that, but it takes a lot to actually make the real commitment. There is a selflessness about it – it gives me hope watching all of them in the film, in what often feels like a hopeless time."
Learn more about our work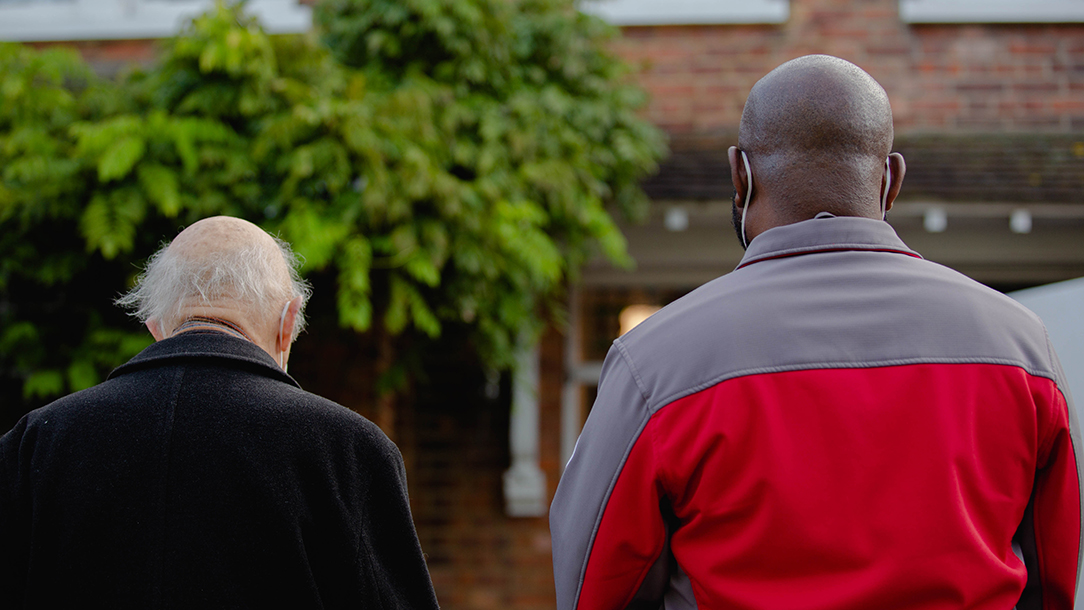 From delivering food and medicine to comforting someone in a crisis