Met Office report confirms that the UK climate is changing 
The Met Office's State of the UK Climate report shows that our weather is continuing to change - getting warmer and wetter
Though we love nothing more than talking about the weather here in the UK, it feels as though record temperatures and worrying weather forecasts have been in the news almost every day this summer.

Now, just weeks after record highs of over 40ᵒC were recorded in parts of the country, the Met Office has launched its State of the UK Climate report.

You can read the full report here, but the bottom line is clear: the UK's climate is changing.
First of all, it's getting warmer...
All the top ten warmest years for the UK in the series from 1884 have occurred this century
2021 was 0.1ᵒC warmer than the 1991-2020 average, and 18th warmest since 1884
The most recent decade (2012-2021) has been on average 0.2ᵒC warmer than the 1991-2020 average and 1.0ᵒC warmer than 1961-1990.
It's getting wetter...
Since 2009, the UK has had its wettest February, April, June, November, and December on record (in monthly series from 1836), as well as its wettest winter
The most recent decade (2012-2021) has been on average 2 per cent wetter than 1991-2020 and 10 per cent wetter than 1961-1990 for the UK overall.
And we've seen some significant weather events...
A red warning was issued for Storm Arwen between 26th and 27th November 2021, one of the most damaging winter storms of the last decade
For a week in early February 2021, the UK experienced its most widespread and significant snow event since late February to early March 2018.
British Red Cross's work in the UK
In November 2021, our volunteers worked alongside local authorities to support people affected by Storm Arwen. Over a period of two weeks, we deployed 63 emergency response volunteers and 34 community reserve volunteers supporting 3,164 people.

We set up rest centres and carried out door-to-door welfare checks in areas that had lost power, and provided food, hot water, and other essentials.

Just a few months later, Storm Eunice rocked the country with wind speeds reaching over 100mph in some areas. Homes were left without power and weather warnings were issued all over the country.

Once again, our volunteers were on hand to support vulnerable people affected by power cuts in Cornwall, Somerset and South Wales. We also made over 1,000 welfare calls over a weekend and worked hard to help people affected by a landslip in Riddlesden, Keighley.
Helping out in the UK heatwave
This July, as parts of the UK buckled under record temperatures, our volunteers responded to fires in Dagenham, Milton Keynes, Havering and Boston in Lincolnshire.

On a day when the London fire brigade reported its busiest day since WWII, volunteers supported exhausted fire crews and provided comfort, water and toiletries to people who were unable to access their homes.

In total almost 80 volunteers from across the North, South and Channel Islands, Central, South East and London areas were deployed.

Unfortunately, reports that the UK's climate is changing is not news to us.

Both in the UK and around the world, our teams are on the front line every week, responding to the human impacts of climate change. Its effects are real and they aren't going away.

If you'd like to learn more about our work with people affected by climate change, you can visit our climate hub.
Read more
Richard Blewitt, executive director, British Red Cross sets out some startling figures on climate change, and explains why it's vital that we raise our global ambition.
The Met Office's senior climate scientist Nikos Christidis explains the link between extreme weather events and climate change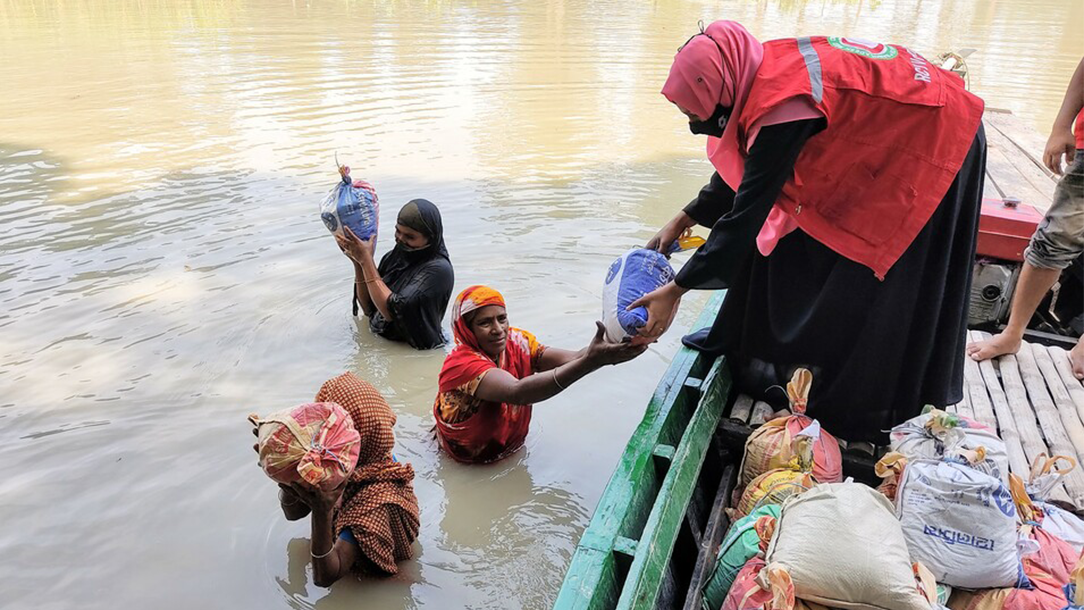 The IPCC states that climate change is already contributing to humanitarian crises