"Some people have an income, but many do not. We are supporting some of the most vulnerable." 
How the Polish Red Cross is supporting Ukrainian mothers like Jana, Anna and Olena with cash assistance
Last updated 8 August 2023
In April 2022, the International Federation of the Red Cross and the Polish Red Cross started to roll out a cash assistance programme in Warsaw, the first ever use of cash assistance in Poland by the Red Cross.
Due to the ongoing conflict in Ukraine, similar programmes are being set up in many neighbouring countries as well as in Ukraine itself, to support people who have fled their homes since the beginning of the conflict.
Mothers Anna and Jana were among the first to receive cash cards from the Red Cross. The pair became fast friends when they met in Warsaw, having both left their homes in Ukraine to ensure the safety of their children.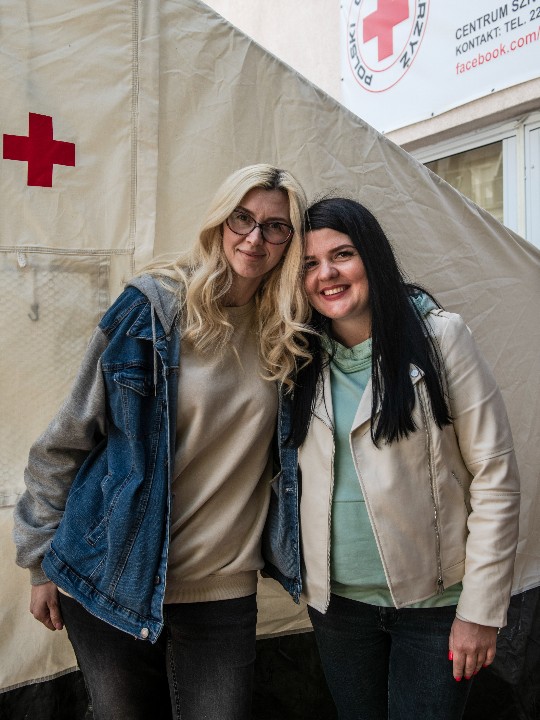 Two mothers bonded by experience
Anna, 33, is a manicurist from Kyiv and has two daughters, aged nine and 12. Jana, 44, is an insurance broker from Lviv, and mother to an 11-year-old son.
Since arriving in Poland in early March, both women have received material support from the Polish Red Cross, including food and toiletries. But now, they will be able to pay for the things they want to prioritise.
"The first thing I will buy will be food but if I have money left I will go to the dentist because my daughter has dental problems that I would like to get checked out," says Anna.
Both Anna and Jana are also looking forward to treating their children to some of the activities they used to enjoy back home.
"My son plays snooker, so I would like to find a billiards club that might be able to offer him a discounted membership," says Jana.
"Fighter planes constantly flew and explosions were heard"
Meanwhile, Anna's eldest daughter is a talented dancer, so she hopes to find her a dance school to attend.
Anna and her children have been on the move since the conflict escalated in Ukraine.
"On February 24, I was woken by a phone call from my mother," recalls Anna. "Kyiv was bombed so hard that the windows shook. In half an hour I literally packed my suitcase, took my two children and my dog and we left Kyiv."
The group first travelled to Anna's ex-husband's house near the city of Zhytomyr, but found that that didn't feel safe either.
"Fighter planes constantly flew and explosions were heard," she says. "We were afraid and constantly hid in the basement. My girls are very sensitive to all this and at one point I just decided we had to leave any way we could."
Anna and her children crossed the border on 3rd March and, with the help of a family friend, managed to find a place to stay in Warsaw a few days later.
WE TRY TO REMINISCE ABOUT WHAT LIFE WAS LIKE BEFORE, TO THINK ABOUT HAPPIER TIMES AND LAUGH.
Jana

She met Jana after their children were enrolled into the same Polish school. Jana had spent the first days of the conflict volunteering in the community, but eventually left at the request of her husband. "My husband found a bus that was going to take people to Poland and he asked me to take our son and go – he said he would be calmer knowing that we were safe."
The two women are now close. "We understand each other well, we are in the same situation," says Jana. "We try to reminisce about what life was like before, to think about happier times and laugh. We try to stay positive, that helps a lot."
Cash assistance pays for things people need now and in future
Ever since the first refugees crossed the border, the Polish Red Cross has been supporting people from Ukraine. Honorata is the director of a branch of the Polish Red Cross and has worked for the Red Cross for more than 24 years. She says cash support is crucial in helping the people most in need.
"There are some people who have money and income, but many do not," says Honorata. "[Cash support] will allow them to pay for things that they will need now and in the future, for example they will eventually need to pay for rent," says Honorata. "They will need money for things like school lunches and supplies for school. The cash will allow them to fill the gaps and pay for things we haven't provided."

For many parents who have found themselves in the impossible situation of uprooting their children from their homes, this includes things that they hope will help their children to feel settled.
Olena, who is from Kyiv, arrived in Poland in early March. A family portrait photographer by trade, she travelled with her mother-in-law and her 10-year-old son Ivan.
PEOPLE [IN POLAND] ARE VERY GENEROUS, I FEEL THAT THEY KNOW ABOUT THE PAIN OF BEING A REFUGEE SOMEWHERE FROM GENERATIONS BEFORE.
Olena
Olena recently received a cash card from the Red Cross. Along with the essentials, she plans to buy something for her son. "We didn't take anything from his childhood when we fled our home," she says. "He has lost a lot, so I will ask him what he wants. Lego is his favourite."
Olena says that since she arrived in Poland, she has been overwhelmed by the amount of kindness she has received. "People are very generous, and I feel that they know about the pain of being a refugee somewhere from generations before," she says.
"That's why they open their hearts so fast and so sincerely. Now I see that horrible events like this conflict can open up people's hearts and that there are positive sides even to something so dark."
You can visit our Ukraine country page for more information on Ukraine, or this page for answers to any questions you may have about donating and fundraising.
Ways to support
Read more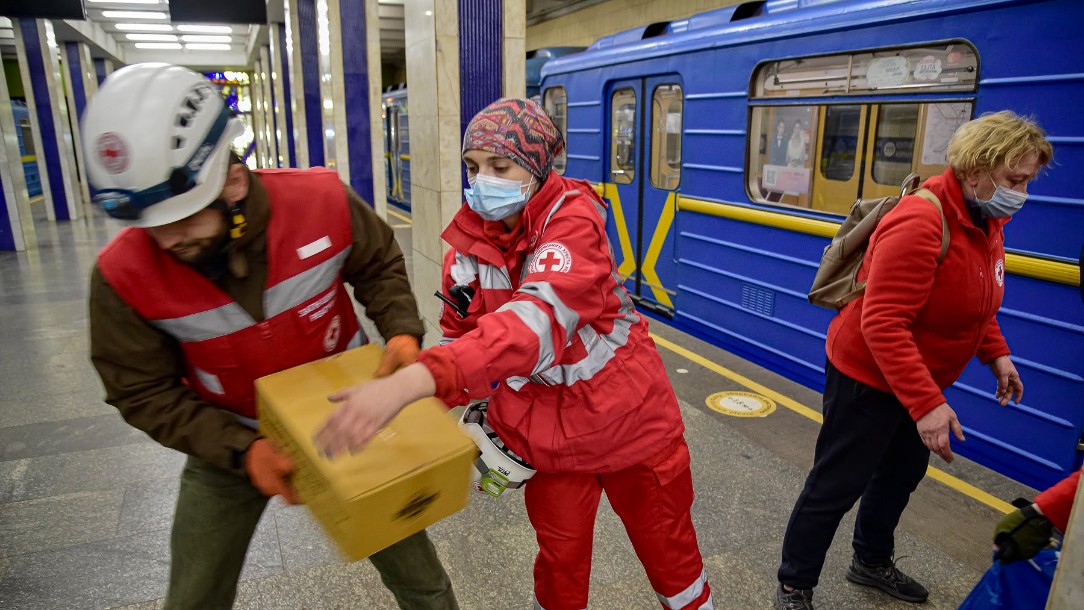 How the Red Cross is helping people affected by the conflict in Ukraine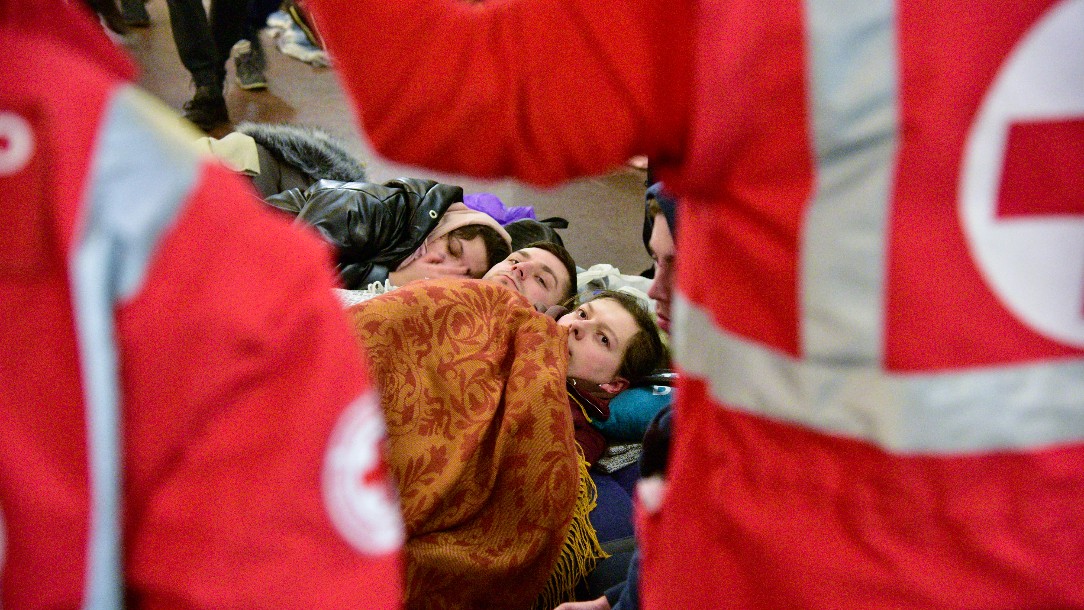 Alexander, originally from Ukraine, left his country last year and moved to the UK. He has watched in horror as the events of recent weeks have unfolded.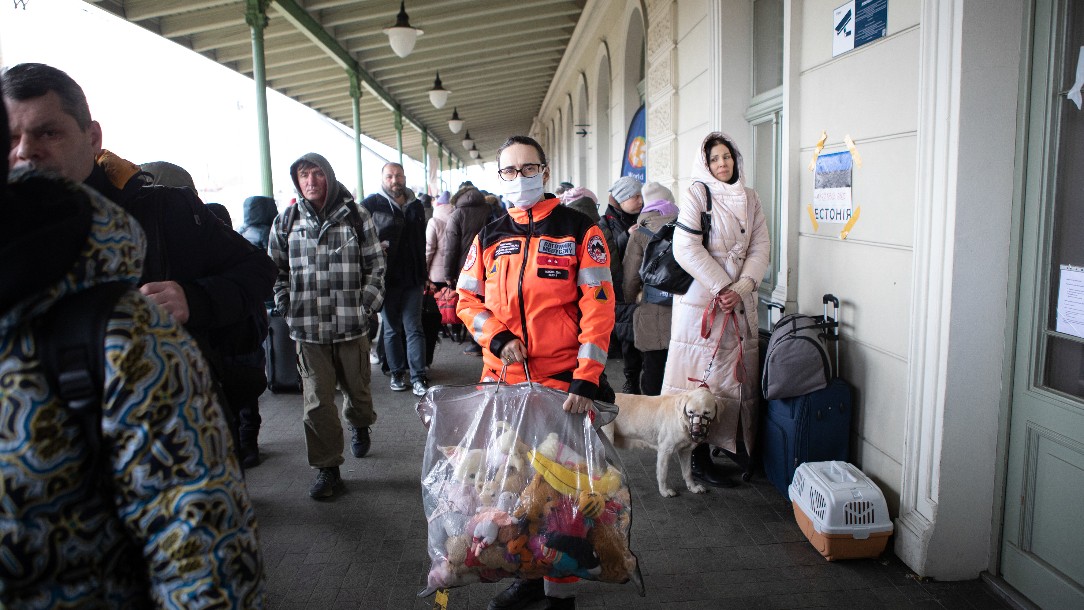 Stories of kindness in a crisis, from a Red Cross centre in Ukraine to a train station in Poland
The Red Cross has never needed you more
Whether it's Ukraine, Afghanistan, or here in the UK, there has never been a more important time for the British Red Cross – and every member of the International Red Cross and Red Crescent Movement – to be there for people in crisis.
DONATE NOW