"Human trafficking: the British Red Cross will always be there for survivors"
By Kathryn Baldacchino, head of anti-trafficking, British Red Cross
Last updated 4 August 2022
We mark Anti-Slavery Day on Tuesday 18 October 2022, and I've been reflecting on our work to strengthen care, support and advice for survivors of human trafficking and modern slavery, and how much more needs to be done.
We know that the pandemic didn't affect us all equally, and for many people it has hugely increased risks of abuse and exploitation. Now, more than ever, we need coordinated action to combat trafficking and modern slavery and to improve support for survivors.
Human trafficking and modern slavery remains a growing — and often hidden — crime that become even less visible during the Covid-19 pandemic.
Human trafficking violates the dignity and integrity of people, endangering their life and physical security. Although sadly trafficking is perpetrated at any time, as part of the world's largest humanitarian movement we have seen how times of crisis can increase existing trafficking risks and give rise to new ones.
We need to be aware of how specific measures will make people more vulnerable to being trafficked and keep this in mind in any response.
Anyone can become a victim of trafficking and many factors can make people more vulnerable to it. Migrants are particularly in danger of being trafficked, or trafficking may even be a central element of their migration journey. The International Federation of the Red Cross Red Crescent has warned that migrants are among the Least Protected, Most Affected across the world during the Covid-19 pandemic.

It's crucial that people know where to seek help and that support is available at a time when abuse is likely to increase, and when government guidance has encouraged everyone to stay inside and away from others. This is also a time when services and support from charities and community groups is limited, harder to access and less visible due to lockdown measures and financial pressures.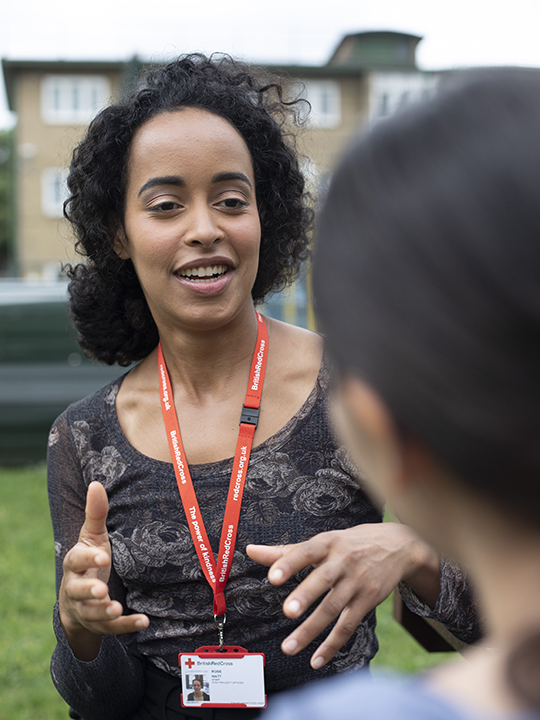 Human trafficking didn't stop for the pandemic, and neither did we
Throughout the pandemic we have continued supporting people across the UK, adapting our services to be delivered remotely. Through our Your Space project in Derby, Nottingham, Birmingham and London, we have re-started providing support for people immediately after they leave situations of exploitation.
Our support includes short-term accommodation, emergency provisions and complex casework support to give people time, space and support to rest and make informed choices about their future.
The importance of immediate support
In October 2017, the government committed to implementing government funded Places of Safety which would give people leaving situations of exploitation up to three days of accommodation and support as they make decisions about their next steps.
Three years on, the government is now working towards implementing Places of Safety. It is vital that this work is guided by principles that put the needs of people at the heart of support provided.
Working with partners, we've developed 10 key principles that are central to supporting people in the first stages of recovery from exploitation. This includes providing support that is open to all, is for a minimum of three days but allows for an extension of this, involves early legal advice and enables choice.
WE KNOW THAT THE LACK OF LONGER-TERM SUPPORT IMPEDES PEOPLE'S RECOVERY.
With increasing risks of trafficking and restrictions on support services, it is even more urgent that people leaving situations of exploitation have access to immediate support and the time and space to rest and make informed decisions about their next steps.
Building hope for the future
This Anti-Slavery Day, we're also looking to the future and calling on the government to take action to improve longer-term support for survivors of trafficking and modern slavery.

Through our work supporting people and our research, working in partnership with Hestia and Ashiana, we know that the lack of longer-term support impedes people's recovery. It affects their ability to access accommodation, mental health support and financial assistance, and to rebuild their lives through education and work.
At present, being recognised by the government as a survivor of modern slavery does not come with sufficient support to help people to recover and rebuild their lives. This leaves many people in vulnerable situations and at risk of re-exploitation.

People who do not have secure immigration status are particularly exposed. The British Red Cross, alongside many others, has been calling for increased protection for people recognised as survivors of modern slavery by providing survivors with secure immigration status.
THIS IS A VITAL OPPORTUNITY TO SAFEGUARD PROTECTION FOR SURVIVORS OF TRAFFICKING AND EXPLOITATION.
Last week, the House of Lords passed an amendment to the new Immigration Bill that would give EEA nationals recognised as survivors of trafficking and modern slavery 12 months of immigration leave in the UK.
As the amended bill returns to the House of Commons on Monday 19 October, this a vital opportunity to safeguard protection for survivors of trafficking and exploitation as the UK prepares to leave the EU.

But we can't stop there. We believe the government should advance protection for all recognised survivors by providing secure immigration status and longer-term support to ensure people can recover and look to the future.
You can support our work with refugees
We support vulnerable refugees and asylum seekers in 58 towns and cities across the country. If this story has inspired you, click below to support our work and help us help people who have fled their homes in search of safety
Donate