The Baxters Loch Ness Marathon
One of the most stunning marathons in the world.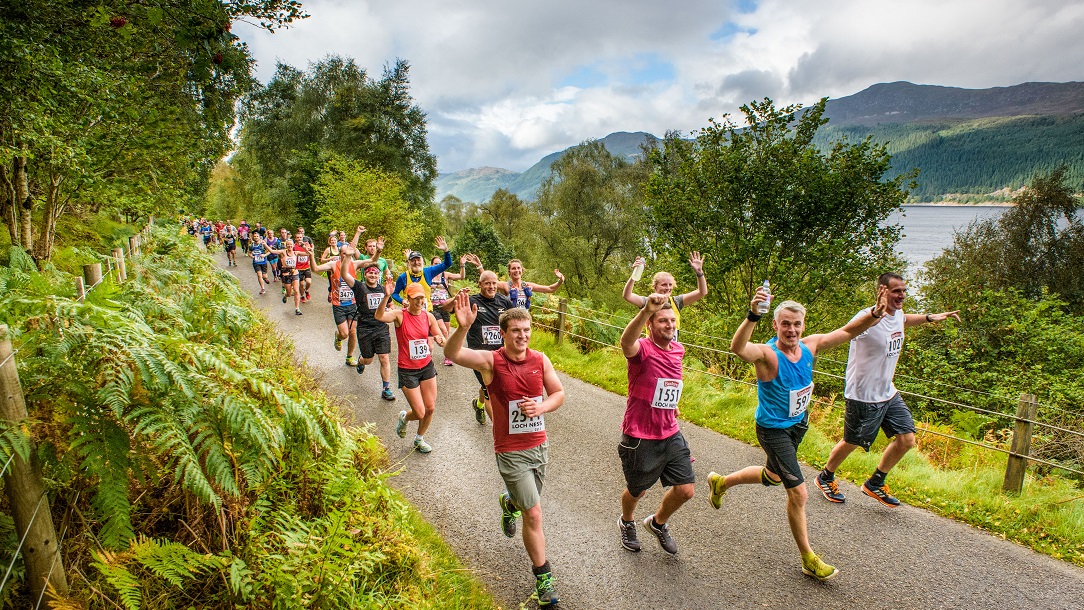 04 October 2020
Highlands
Registration fee:

£35

Sponsorship target:

£300

Minimum age:

18 years old or over
This event has been postponed until 2021. We will update this page as soon as a new date has been confirmed. Thank you for your patience and understanding at this time.
About the event
The Baxters Loch Ness Marathon is quite possibly one of the most stunning marathons in the world. With spectacular scenery and a fantastic atmosphere, it's truly memorable experience. It's no wonder the Loch Ness Marathon was voted in the top 10 UK marathons by Runner's World readers in 2016 and is on the bucket list for many runners from around the world.
"Breathtakingly beautiful", "friendly atmosphere", "flawless organisation", "felt like a festival not just a race" "Loch Ness vs London. There is no contest." So why not come and experience it for yourself?
The Loch Ness Marathon follows a spectacular point-to-point route alongside world famous Loch Ness, starting in an atmospheric moorland setting and continues through stunning Highland scenery, taking you along the south-eastern shores of Loch Ness, across the River Ness, to finish in Inverness, capital city of the Highlands.
Why not make a Highland weekend of it and come with family or friends? There's plenty to entertain runners and spectators over the weekend with a free Sports Expo, Baxters Food & Drink Fayre, live music, kids' activities and a Wee Nessie for under-5s.
10K or 5K events offered on the same day
If a whole marathon is too much of a challenge this year, why not enter the 10K and Corporate Challenge or 5K events on the same day and raise funds for the British Red Cross. The Baxters River Ness 10K & Corporate Challenge follow a flat, point-to-point course through the historic Highland capital of Inverness alongside the banks of the picturesque River Ness, and are renowned for their 'PB' potential.
Perhaps you're looking for the next step up from a 5K or are en-route to a half marathon or marathon? Maybe you see it as an opportunity to raise funds for your favourite charity or a chance to run in a new scenic setting? Possibly you are a club runner up for a new challenge? Or, like many others, maybe you are simply looking for a fun and enjoyable way to keep fit and healthy and need a goal to work towards. Whatever your motivation, the Baxters River Ness 10K won't disappoint!
If you prefer a team approach to sport, then the 10K Corporate Challenge for teams of 4-6 could be the ideal race for you.
If you're new to running or looking for a shorter distance, the popular Baxters River Ness 5K could be the race for you. Open to runners of all ages and abilities including wheelchair entrants, the 5K follows a flat route by scenic River Ness to finish alongside other races at Bught Park, Inverness.
Whatever your running ability, fitness level, age or experience, if you enter the Baxters River Ness 5K, we guarantee you'll cross the finish line with a smile on your face!
Why run with the British Red Cross?
The British Red Cross helps millions of people in the UK and around the world get the support they need if crisis strikes. We're part of the global Red Cross and Red Crescent Movement, and we believe in the power of kindness. Every step you take and every pound you raise will help fund this work.

As part of Team Red Cross you will be supported throughout your event preparation. Our local fundraiser based in northern Scotland will be on-hand to encourage you with your fundraising, answer any questions you have and to thank you for all of your hard work.