Experience the breath-taking views of Snowdonia with your friends by joining Team Red Cross on this spectacular trek to the summit of mighty mount Snowdon.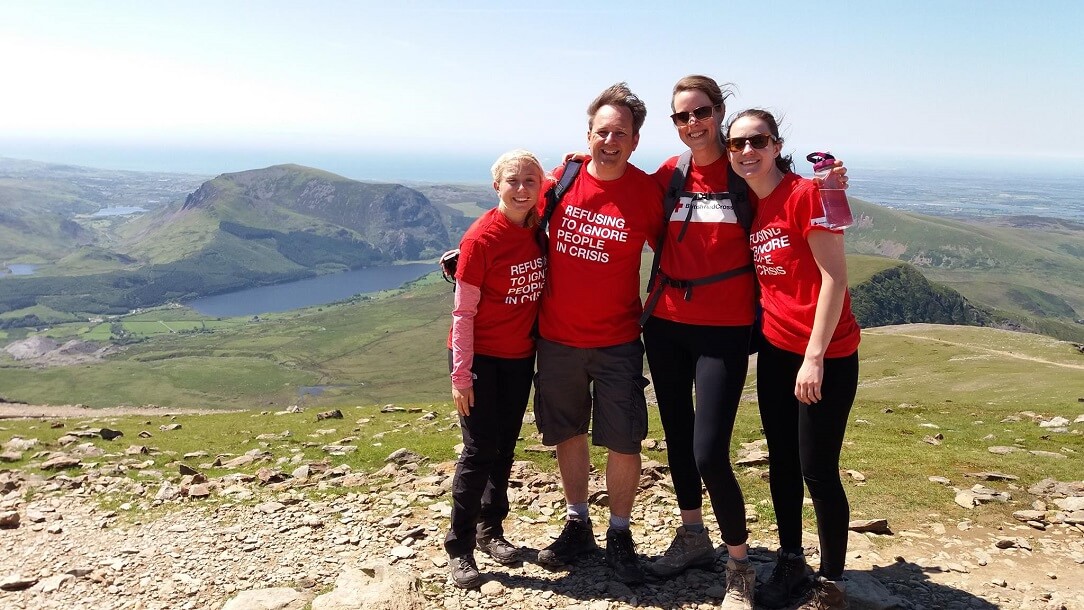 18 September 2021
Snowdonia
Registration fee:

£10

Sponsorship target:

£100

Minimum age:

14 years old or over 
Sign up for £10 and raise a minimum of £100.
The walk is suitable for everyone aged 14 and over. Anyone aged 14 – 18 must have consent from a parent or legal guardian and be accompanied by an adult. If you would like to register a young person for this event please contact us.
If you are not a resident of the UK please do not complete a registration form but contact us to discuss your application.
T-shirt

We send our participants a British Red Cross t-shirt free of charge when they have raised £100. However, if you would like to ensure more of your fundraising goes towards our work, you can choose to make a donation of £5 now and receive your top straight away.
About the event
This exciting challenge will see us trek to the summit of the highest peak in England and Wales! You will be walking along the famed Llanberis trail and ascending to a height of over 3,500 feet and a total distance of around 10 miles.

The day will involve between five to seven hours of walking, plenty of time to take in the fresh air and gorgeous views. You can come alone and make new friends, or use the trek as a way to spend quality time with loved ones!

We are on hand to support you as soon as you sign up, providing you with essential information to make your trek a memorable one! Please get in touch with our team if you would like to find out more.
Why trek with the British Red Cross?
Every step you take and every pound you raise will help fund the work of the British Red Cross, who help millions of people in the UK and around the world get the support they need if crisis strikes.
As part of Team Red Cross you will receive:
a safe and supported route to the summit with checkpoints, marshals, support walkers at the back and first aid cover

online materials full of tips and advice to help you reach your sponsorship target

dedicated support, including training advice
a British Red Cross t-shirt if you raise £100
the chance to walk as part of a group if you register on your own.