FAQs: Walk for humanity London
Your Walk for humanity questions answered – from fundraising to getting ready for the day.
Questions cover the following topics:
If you can't find the answer to your question, please get in touch.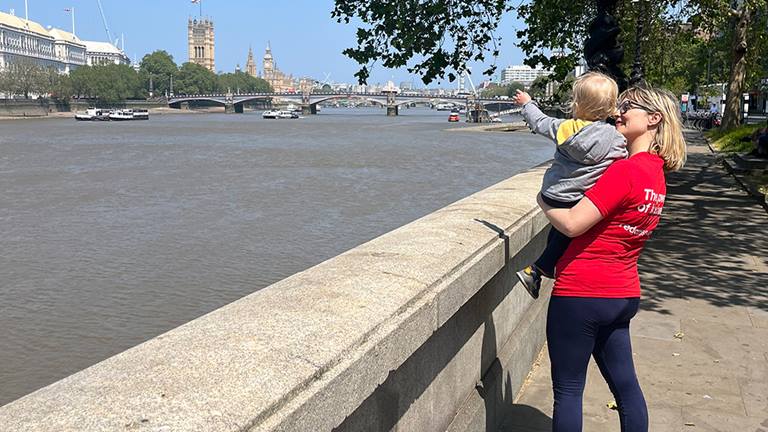 On the day
How do I get to Walk for humanity London?
The event village is a short walk from Vauxhall tube station, which is on the Victoria Line, as well as Vauxhall Railway Station which is accessible by London Overground.
Multiple bus services run to Vauxhall Bus Station which is just a few minutes' walk away.
There's a train strike scheduled for Saturday 30 September and an overtime ban on Friday 29 September. Make sure to plan your journey in advance, find out more about the strike.
There's no dedicated parking available – please use city centre parking and local public transport.
The meeting point's what3words reference is punt.shut.alive, find out more on the what3words website.
What time do I need to arrive?
To ensure the safety of walkers and members of the public, we will require walkers to set off in two waves. The first wave will set off at 11am and the second wave will set off at 11:30am. We will be welcoming walkers to the charity village from 10am. Please check your emails for your allocated arrival and walk start time. If you have not received this information by 5pm Wednesday 27 September, please get in touch at walkforhumanity@redcross.org.uk.
What if I don't receive my walker number?
Walker numbers can be collected from the Information point in the event village on the day and make sure to fill out your emergency contact information on the back before starting your walk. Children under 18 do not need a walker number.
How will I know my child is safe at the event?
Children under 18 are required wear a red wristband for identification and to help us keep them safe. Please collect a wristband at the Information point on the day to complete with parent or guardian contact details.
Do I need to bring anything to the event?
Please be sure to bring your walker number to the event and fill out the emergency contact information form on the back of it. If you haven't received your number, please collect from the information point in the event village on the day.
Other essentials for the day:
Sensible walking trainers or shoes (please don't underestimate the 10km distance)
A water bottle to fill up at the event hub
Weather-dependent items (please make sure you look at the weather forecast the day before the walk)
Layers of clothing
Snacks
Headphones, to listen to incredible stories on route
Your British Red Cross T-shirt
Will there be photography and filming on the day?
We will have an official photographer and videographer collecting images on the day. If you would prefer not to be photographed or filmed by our team, please collect a yellow wristband at the Information point. We take the privacy and safety of children seriously, and our team will always ask for explicit consent before taking photos or videos that include children who will be identifiable. Children under 18 must wear a red wristband for identification and to keep them safe. Please collect this at the Information point on the day.
Will I get a T-shirt?
Red Cross T-shirts, neck buffs and tote bags will be available to buy from our merchandise stand on the day.
I've reached my £150 fundraising target. How do I claim my free neck buff?
Free neck buffs for fundraisers who have reached their individual £150 sponsorship target can be collected from the merchandise stand in the event village. Just show your fundraising page and they will give you your neck buff, as a thank you from us.
What should I wear on the day?
Wear comfortable shoes and clothing for the walk and check the weather report ahead of time. We encourage you to wear your British Red Cross T-shirt or get creative and walk in fancy dress! We'll have spare T-shirts on sale on the day.
Will food and drinks be available?
Yes, you'll be able to get food and drinks.
Water will be available at the start and finish area for you to fill up a reusable bottle.
Food trucks will be set up at the event hub in Vauxhall Pleasure Gardens.
There are plenty of shops along the route if you need to purchase extra drinks or snacks.
Will I get a map of the route?
Maps of the route will be posted in the event village. The route will be clearly signposted. Friendly volunteers will guide you and cheer you on along the way.
How long does the walk last?
We estimate that most walkers will take between 90 minutes and two hours to complete the 10K route as there are no major hills or other obstacles.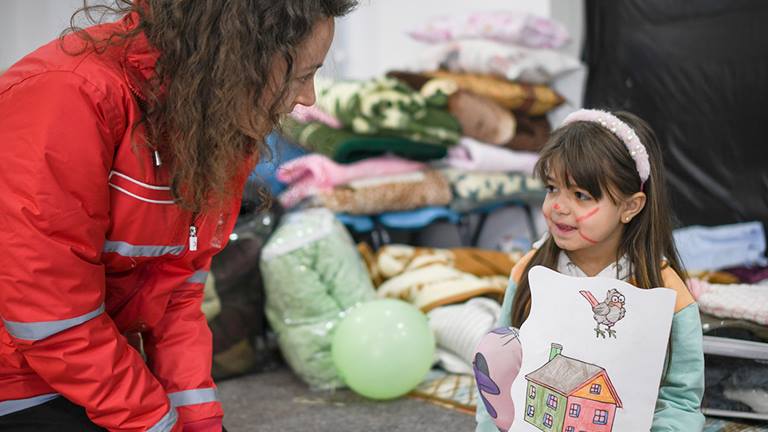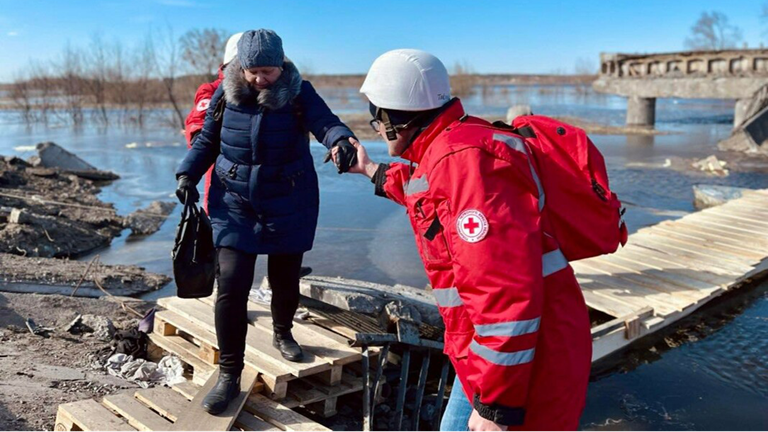 Event details
When and where is Walk for humanity London?
The 10-kilometre walk starts and finishes at Vauxhall Pleasure Gardens on 30 September 2023.
You'll have the opportunity to take in iconic London sites, including the River Thames, St Paul's Cathedral and the House of Parliament. The address of the gardens is: New Spring Gardens Walk, Vauxhall Walk, London SE11 5HL.
What will I receive when I sign up?
A welcome email with links to downloadable fundraising materials and a guide to setting up your own personal fundraising page.
A Walk for humanity event T-shirt. You can claim your free T-shirt by following the link in your welcome email.
Regular email updates with information on what to bring, what time to arrive and tips on raising as much money as you can to support our work.
Your event pack with your walker number and everything you need for the day (sent by post just before event day).
How do I get in touch with the events team?
If you have any questions, you're unable to take part in the event or you need to change your address, get in touch at walkforhumanity@redcross.org.uk or call 07764206617 (Mon-Fri 9am-5pm).
Can children take part?
Under 18s cannot register to take part in Walk for humanity, however they can attend the event with a parent or guardian. If you're bringing children please note this on the registration form so we have an idea of numbers on the day.
Can we take part as a team?
Yes, teams are welcome! Each team member must complete their own registration form and we ask that each member commit to a £150 sponsorship target.
Find out how to create a team fundraising page on JustGiving.
Is the event dog friendly?
Walk for humanity is dog friendly, so your dog can enjoy the day too. As children will be attending the event, please keep your dog on a lead.
Is Walk for humanity wheelchair accessible?
Vauxhall Pleasure Gardens has paths that are accessible by wheelchair, however the ground is slightly uneven. Most of the route takes place along pavement and road, allowing for easy navigation. A disabled toilet will be available in the event village.
How can I help make Walk for humanity green?
We're working hard to make Walk for humanity as green as possible. Bring along your reusable water bottle – you'll be able to top up in the charity village. And always remember to use our designated bins for rubbish and recycling during the event.
Fundraising
How much money do I need to raise?
We ask everyone taking part to aim to raise £150. You can, of course, raise more. A fundraising pack will be included in your welcome email and we'll stay in touch with tips and ideas right up to the event.
When and how can I pay the funds I've raised?
You can create your own Walk for humanity fundraising page through JustGiving. Making a start fundraising early is the best way to ensure you hit your target.
Details on how and where to pay in your sponsorship money are included in the fundraising pack sent in your welcome email. We ask that you pay your fundraising money in no later than mid-October.
If you've received some cash or cheques, please contact us at walkforhumanity@redcross.org.uk.
How do I set up a fundraising page?
You can create your own Walk for humanity fundraising page through JustGiving.
Who do I talk with about problems with my fundraising page?
Get in touch with JustGiving at help@justgiving.com.
Can I fundraise offline?
Yes. You can download sponsorship forms to fundraise offline.
Can I continue collecting sponsorship after the event?
Your JustGiving page will stay open for donations until 30 November. You can still pay in offline donations after this deadline, but please try to get it to us by 30 November if you can.
Find details of how to pay in offline sponsorship.
How will money I raise be used?
Whether we're supporting families whose homes have been destroyed by conflict in Ukraine, people struggling with loneliness and isolation in the UK or communities rebuilding after the devastating earthquakes in Türkiye and Syria – we support those most in need.
Find out how your money is spent.
What percentage of the donations raised will go towards the cause?
For every £1 donated:
73p is spent helping people in crisis. This includes emergency response, refugee support and our international work.
16p is spent generating funds and running our shops.
11p is spent on support costs – running our organisation.
Find out more about how we spend the money we receive.