Humanitarians in Action: volunteering through the Covid-19 pandemic
 As the British Red Cross and Land Rover launch a film capturing life on the front line of the Covid-19 pandemic, let's meet some of the dedicated volunteers featured in the film
Last updated 19 April 2023
Since March 2020, the British Red Cross has reached more than two million people in the UK. From providing food and medicine deliveries, to helping people home from hospital, we have only been able to do so thanks to the efforts of our volunteers and staff.
Now, we can take an inside look at what life has been like for some of the more than 79,000 people who signed up as volunteers at the beginning of the Covid-19 pandemic.
In partnership with Land Rover, we have released a short film that tells the story of the people behind our single biggest UK emergency response effort in more than 50 years.
Shot entirely by volunteers using 360 GoPros attached to Land Rover vehicles, the film forms part of an international four-part series On the ground: Humanitarians in Action, capturing Red Cross volunteers helping vulnerable communities around the world throughout the global Covid-19 emergency.
On the Ground: Humanitarians in Action
Hear more about the stories of just a few of the thousands of Red Cross volunteers who have responded to the Covid-19 pandemic.
LEARN MORE ABOUT OUR VOLUNTEERS
Helping the vulnerable stay protected
The film follows people like Issie, who has been volunteering with the Red Cross in Scotland since 2008 and now works with emergency response services.
Issie lives in the Scottish Highlands, 25 miles south of Inverness, and signed up as part of a small group of volunteers who have been delivering PPE to care homes and care in the community locations around the area.
The film sees Issie driving to a remote address in the North of Scotland, to drop off PPE to a particularly vulnerable family who had been isolating for some time.
Volunteering through the pandemic
"I wanted to do something to help with Covid," says Issie. "Delivering PPE is a very small thing, but it can be pretty massive up here in the Highlands. The distances are so big, you could be doing eight-hour round trips. It's not like driving across town with a few boxes, and a lot of the people who we have been supporting are really grateful to get it."
Through our long-standing partnership with Land Rover, we had access to a fleet of Land Rover Defenders, which allowed volunteers to reach people in remote areas of the country.
The film also follows Sam, who signed up as an emergency response volunteer in May 2020, when he was just 19. Since joining the Red Cross, he has been delivering food parcels to people all over Newcastle.
I DON'T JUST DROP OFF A PARCEL, I'LL SIT AND HAVE A CHAT.
Sam, emergency response volunteer
"I don't just drop off a parcel, I'll sit and have a chat," says Sam. "I might be the first face [that person] has seen for however long, or the first person they might actually talk to properly for a long time, and the last person they'll talk to for a long time as well, at least face-to-face. So even though we're socially distanced and I've got a mask on, I still make the effort to talk."
Having worked in marketing before he lost his job at the beginning of the pandemic, Sam is now in the last stage of the selection process to become a student paramedic.
An extra tool in the community's armoury
A little further south in Yorkshire, we meet Keith, who joined as an emergency response volunteer in January 2020, after seeing the work the British Red Cross had done in Doncaster, after the area was hit by floods.
Having volunteered with the Red Cross throughout our Covid-19 response, his team was put on standby when flooding hit the area again in early 2021.
"We didn't get the rain we were forecast, but we're there to be a focal point," he explains. "The council set up a hub in a local church – we're delivering things, laying sandbags, any extra help really. An extra tool in the council's armoury to help local communities."
YOU CAN MEET A COMPLETE STRANGER AND GIVE THEM THAT INITIAL SUPPORT.
Keith, emergency response volunteer
His main experience as a Red Cross volunteer has been supporting his local fire service and providing welfare support after major incidents.
"It might sound a bit corny, but it's a bit of a calling for me I suppose," says Keith. "You can meet a complete stranger and given them that initial support – offer them some clothing, or help with insurance while their mind is racing at 2,000 miles an hour."
The film also captures the way our volunteers have adapted to the changing needs of the communities they have been supporting. From the initial food box deliveries we started making in March 2020, to being deployed at vaccination centres across the country from early 2021, our dedicated volunteers have been there for the people who need it the most.
You can watch the full film in the video above, and head here to see how our colleagues from the Australian Red Cross, Italian Red Cross and Mexican Red Cross have responded to this unprecedented health emergency.
Read more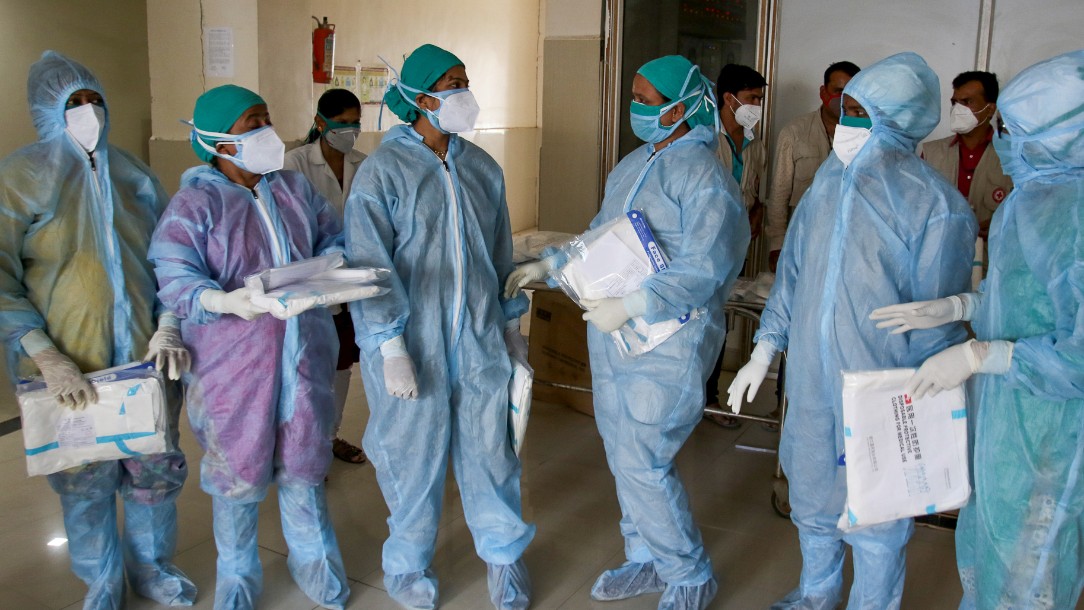 South Asia is now at the epicentre of the Covid-19 pandemic. This is how you can help