Hurricane Matthew in Haiti - one year on
Explore the impact of Hurricane Matthew one year later and discuss the importance of building community resilience.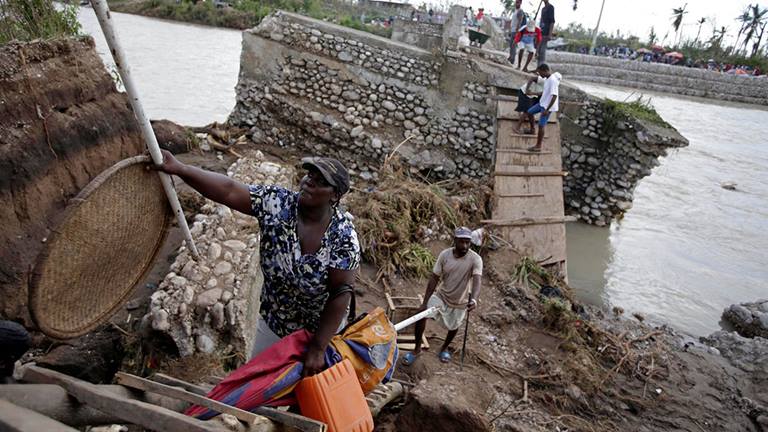 Age:

11-19

Type:

Lesson plan, photos

Subjects:

Geography, PSHE

Topics:

Disasters and emergencies
When Hurricane Matthew hit on 4 October 2016, Haiti – one of the poorest countries in the world – was still recovering from a devastating earthquake in 2010. The impact of the hurricane was immense, affecting 2.2 million people.
These photos and discussion activities consider how people's lives were affected, exploring the meaning of the word "resilience", why it is important and how it can be achieved. Learners will also look at the humanitarian relief that has been carried out and think about how we can ensure that the world does not forget about Haiti.
Learning objectives
Learners will:
develop empathy with the people affected

consider the importance of improvisation and building resilience following an emergency

understand some of the main problems following a natural disaster, and the humanitarian relief that is needed

gain awareness of the situation in Haiti one year on from Hurricane Matthew.
Resource overview
1. Starter: Photo activity
Discuss a photo of two people in Haiti following the hurricane and consider questions you would ask them.
2. Discussion: Improvisation matters
Discuss how improvisation is an important part of resilience.
3. Matching activity: Cholera
Match the sentences to improve understanding of cholera, one of the main concerns in Haiti following the natural disaster.
4. Worksheet: Humanitarian response to Hurricane Matthew in Haiti
Match the humanitarian need to the response.
5. Discussion: Hurricane Matthew – a forgotten disaster?
Discuss the situation in Haiti since 2016 and think about why we should be concerned about people forgetting.
Credits
This resource was written by P J White of Alt62 and published in October 2016. This resource was reviewed and updated October 2017.
The photo shows people in Haiti using a handmade ladder after a bridge has been destroyed by Hurricane Matthew (© Reuters/Andres Martinez Casares).