Inspirational Women: Brave mothers of the Sahel
The inspirational women of Mothers Clubs' are creating financial security across the troubled Sahel region, raising a woman's profile and creating solidarity within community groups.
Last updated 4 August 2023
Everybody knows that a mother knows best.
In the Sahel, a part of West Africa that borders the Sahara Desert, the British Red Cross is supporting a grassroots project which promotes good health while tackling a range of social issues. Red Cross Mothers' Clubs have become the beating heart of local communities across the region.
But they've also gone a long way in changing the way women feel about themselves and the way the community feels about them.
Through these community groups, women get training and help to earn and save money. They can then make better-informed choices about their lives and families. And that means empowerment.
As their confidence grows, these brave and inspirational women feel able to make decisions about their households and make meaningful contributions to their community. As a result, their community thrives.
Strengthening communities
Mothers' Clubs, and similar savings community groups in the region, bring economic, social and cultural solidarity to the community as a whole.
In times of financial uncertainty made worse by climate change and the current coronavirus pandemic in the Sahel region these mothers' groups provide a sense of security and build trust among the members.
Considering that today, the majority of West Africa's population live below the poverty line, with over 30 per cent of the population living in absolute poverty, these grass roots savings schemes and community groups remain more important than ever.
The clubs rely on reciprocal solidarity and clear membership rules, and the profits are pooled and shared between members. This allows the strong mothers to pay for essentials, such as medical fees, and pay for longer-term commitments, such as their children's school fees.
As their influence grows within communities, the Mothers' Clubs have also started to play a central role in reducing the risk for more complex social issues, like sexual and gender-based violence.
The British Red Cross is also starting to set up Mothers' Clubs in areas with high migration flows. Here, the women can play a key role in raising awareness of human trafficking risks within their communities and ensuring women have the tools to make informed and safe decisions.
How does a Mothers' Club work?
Each Mothers' Club is a community group of around 20-25 women, engaged as Red Cross volunteers. They meet regularly to discuss child health, nutrition, hygiene and sanitation with other women in the community.

With seed funding from their local Red Cross, the Mothers' Clubs build collective funds, from which they can borrow money to start their own small businesses. They can also cope with any unexpected expenses within the families of these brave women.
As their individual profits grow, the women keep a small income for themselves, and contribute small amounts to the Mothers' Club pot, building a source of self-sustaining funding for all the strong mothers to draw upon. Through the clubs, the women become breadwinners, health advocates and local leaders with the potential to transform the futures of their families and communities.
The British Red Cross has been supporting Mothers' Clubs in Niger since 2019. In neighbouring Chad, where the project launched in 2017, they were so successful that 81 per cent of the clubs carried on long after the project officially closed. More clubs are currently being launched to benefit more women and their villages or communities.
Before having Mothers' Clubs, our community had lots of problems. Today, women are more active members of our community, educating people on good health practices. People get less sick, because they know what causes diseases and how to prevent them.
Joseph Belemgoto

Village Chief of Larkaye 1 (Canton Mballa), Chad
"Well-being for all"
Bassira Idi, 30, lives in the remote rural village of Kaki Fada in Zinder, Niger. She is married, has five children and joined her local Mothers' Club when years of drought left her struggling to feed her family.
She says: "I joined the Mothers' Club because it is a support framework for women. I personally had no source of income, and I often relied on my parents' help. My husband was often away from home trying to find work.
"Our club is called "Dadin Kowa", which means "well-being for all" in Hausa.
"I am the leader of this Mothers' Club, and I am one of the five members of the board. The Red Cross trained us on business skills, how to manage associations and how to promote good nutrition practices.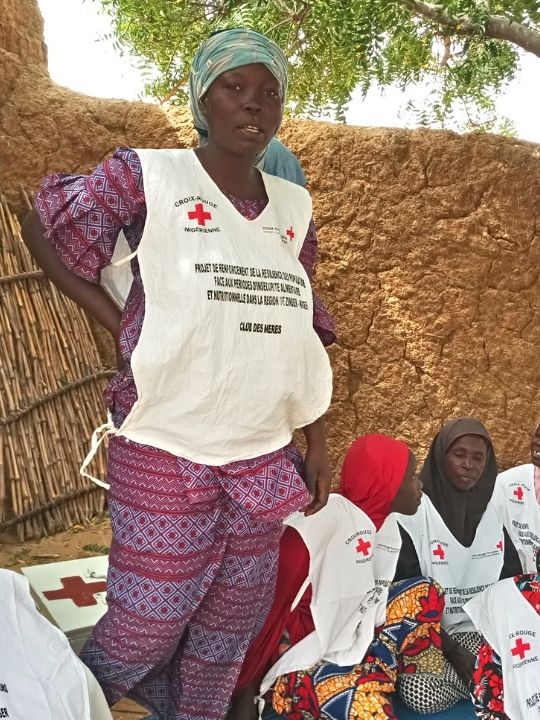 "Through our weekly contributions, the Mothers' Club provides credits with an affordable interest rate to members who want to run their own small businesses. We also give members interest free solidarity loans if a member of their family needs treatment or healthcare.
"As a club, we're investing in the local economy too, setting up a revolving fund to support our sheep fattening activities. This means buying nutritious feed to improve the quality and weight of our sheep so we can sell them for a higher price.
"The Kaki Fada's Mothers' Club is a great opportunity for women of the village. I took out my first loan of 5,000 CFA francs (£7) only three months after starting my weekly contributions.
"It was a one-month loan with a low interest rate. I started a small business in the village from my home, selling basic goods: salt, sugar, seasoning sauce, matches, cassava flour and spices.
"One principle that I learned through the business skills training and that has guided me to be successful in my small business is "sell quickly, buy supplies quickly, create profits quickly". The products that I sell are used by all the households in the village, every day. My income is constantly increasing, so I support my husband by helping with household expenses by using my goods for preparing meals.
My business guarantees food for my children and I am able to go to a health centre in times of illness. I feel independent, because I no longer rely on my parents to survive, and at the same time I am able to give them small gifts from time to time.
"Overall, our Mothers' Club helps to improve living conditions in the village and helps to prevent malnutrition in children under 5-years-old.
"We also organise community discussions on subjects like the benefits of breastfeeding, preparation of enriched flour, or the best diet for young children.
"These activities allow me to make my modest contribution to the development of my community. I am really grateful to the Red Cross for giving me this incredible opportunity".
Decent meals at good prices: Inspiring women with Suzanne's story
Suzanne, 52, was widowed in 2011. She has five children and 28 grandchildren.
She lives in Chad with her younger sister, who's also widowed, and is treasurer of the Mothers' Club and the cafeteria the club runs, which is now being renovated.
The Mothers' Club meets twice a month. Through regular classes, Suzanne has improved her literacy and her French speaking skills.
She and the other members also share what they've learned through the health sessions with the wider community, like washing hands with soap before meals, and regularly cleaning their water storage containers.
Before the Mothers' Club, Suzanne worked as a laundress in a hotel, and sold tissues. But after the economic crisis there was no longer a market for tissues. She now helps run the cafeteria, along with seven other inspirational women and members of the Mothers' Club.
Two members a week, on rotation, cook food, and people from the neighbourhood can come and get a decent meal for an affordable price.
"Now, we know good health practices, such as hand washing with soap before meals; prenatal visits; avoid early marriage," she says.
"My experience with the Mothers' Club truly has been invaluable."
More information
International Relief Fund
While the problem feels enormous, imagine how powerful we can be if we come together, and do all we can to show that we are not willing to leave anyone behind, no matter who or where they are. This is the response of our lifetime. If you can, please donate to our International Relief Fund today.
DONATE NOW