Celebrities create Spotify playlist in support of British Red Cross' Miles for Refugees event
We've teamed up with some of the nation's most loved celebrities, including Lorraine Kelly, Dermot O'Leary and Alison Hammond and actors Joe Locke, Jason Isaacs, Emilia Fox, Alex Lawther and Ralf Little, in support of refugees.
Last updated 20 May 2021
The playlist is designed to inspire the public to take part in our annual Miles for Refugees event, which raises money to keep critical services running in the UK and overseas.
ITV's Alison Hammond chooses to turn up the volume and get moving to Black Eyed Peas Let's get it started! While TV and Radio host Gaby Roslin opts for the same group and Pump it! while doing home HIIT work outs.
Morning TV legend Lorraine Kelly has J Lo fans covered, with On the Floor featuring Pitbull, her go-to track during Zumba with Radio 2 DJ, Jo Whiley turning up the tempo on her morning run to Titanium by Sia.
While Death in Paradise star, Ralf Little, continues setting the pace with David Bowie's Ashes to Ashes and JLS singer and British Red Cross ambassador JB Gill hits the road and cycles to Stronger by Kanye West and Daft Punk.
Dermot O'Leary has submitted his go-to track and hopes his playlist pick will inspire others to get involved: "There's a great song by one of my favourite bands Editors called Escape the Nest really gets me going, but I'm shattered at the end of it."
Taking place this June, Miles for Refugees participants can choose from one of six distances, each one representing journeys people are forced to take to reach safety such as 108 miles from Ukraine to Poland or 22 miles across the English channel.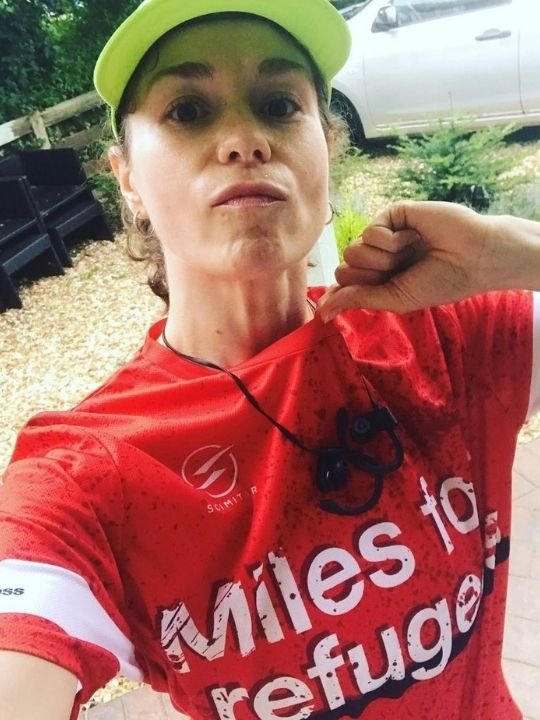 Second time running for Jess Baglow
Gentleman Jack's Jessica Baglow, is taking part in Miles for Refugees next month and says
"I felt, as I'm sure most people do, pretty helpless when watching the suffering of refugees on the news from a safe distance.
Taking part in Miles for Refugees last year was one of the most rewarding thing I've done. By showing up and running every day, I rased over £1,500 for refugees - while improving my fitness.
"This June, I am more than doubling my distance to 160 miles and hope to meet (or even double) my fundraising amount.
The track that inspires me to keep going is 'Warriors' by Too many Zooz. Let's be warriors for each other and show up, raise money and awareness for refugees all over the world."
Our playlist has something to get everyone moving. What inspires our other celebrities? Here's our Miles for refugees Spotify soundtrack in full:
ITV's Alison Hammond

gets things moving with 'Let's get it started!' by The Black Eyed Peas.

Star of Netflix Heartstopper, Joe Locke

has chosen 'Good 4 U' by Olivia Rodrigo.

British Red Cross Ambassador, Harry Potter and OA star Jason Isaacs'

favourite is 'Good Times' by Chic.

TV and Radio presenter, Dermot O'Leary

chose 'Escape the Nest' by Editors.

Presenter and podcaster Gaby Roslin

is also a Black Eyed Peas fan, and listens to 'Pump it', while doing Home HIIT work outs.

Death in Paradise actor Ralf Little loves David Bowie's 'Ashes to Ashes' because there is a "bounciness to the rhythm that really works for me when exercising, i

t is brilliant!"

Comedian Sophie Duker

gets her heart rate up to

'House Work' by Jax Jones feat. Mike Dunn,

when c

alisthenics training.

Olympic Gold medallist Sally Gunnell

listens to 'Cold Heart' (PNAU Remix) by Elton John & Dua Lipa when out on a run or in the gym.

Phil Dunster from Apple TV's Ted Lasso (and Prime Video's Ten percent) jogs to Hall and Oates: 'You make my dreams come true'.
British Red Cross Ambassador, TV presenter and JLS singer JB Gill

cycles to the Kanye West and Daft Punk collaboration, 'Stronger'.

Silent Witness actor Emilia Fox

listens to 'Alive' by Chase and Status, Jacob Banks while working out

The Thick of It actor, Rebecca Front's

personal workout playlist is Beyonce's 'Crazy in Love'. Rebecca's work out regime includes stints on a rowing machine and an exercise bike followed by weights and yoga.

End of the F***ing World star Alex Lawther

exercises to Olivia Dean's 'Ok Love You Bye'.

Good Karma Hospital actor Amanda Redman

pounds the treadmill while listening to the iconic Eagles track, 'Hotel California'.

Morning TV legend Lorraine Kelly

shakes her stuff during Zumba to Jennifer Lopez's 'On the Floor' featuring Pitbull.

Radio 2 DJ Jo Whiley

runs and swims to 'You and Me Song' by The Wannadies, or 'Titanium' by Sia.

Game of Thrones actor Amrita Acharia

listens to 'Opus' by Eric Prydz to smash those hill sprints.

Mamma Mia!'here We Go Again's Josh Dylan

loves to run to Orbital's 'Halcyon and On and On' as it always makes him think of open blue skies and "that feeling of filling your lungs with fresh air."

Gentleman Jack actor Jessica Baglow

who ran 72 miles as part in Miles for Refugees in 2021, is inspired to keep going by 'Warriors' by Too Many Zooz. Jess is doing Miles again this year and taking on 160 miles distance.

Singer songwriter Tallia Storm

gets hyped up to her track 'More Than Friends'

Gaming content creators The Yogscast

chose their very own song 'Diggy Diggy Hole' because "it's an inspiring tune that is a massive part of Yogscast history!"
With more than 6 million people forced to leave their homes in Ukraine this year, and ongoing crises in Syria, Afghanistan and around the world, standing with refugees is more important than ever.
Money raised from the event will fund services which help to protect those who have lost their homes, support families who have been separated by conflict or climate change and provide a kind way to welcome refugees arriving in the UK.
Sign up to Miles for Refugees!
Download our celebrity playlist or create your own, to run, cycle, swim, hop, dance your Miles for Refugees. 
Sign up now