From front line to finish line: the power of together
Inspired by the Tokyo Olympic Games 2020? Find out what Team GB and the British Red Cross have in common.
Whether its the warm glow of 'Magic Monday', which saw Team GB score three golds (before 9am), or the 2 million people the British Red Cross reached during the coronavirus pandemic, both organisations have the power to pick up a nation.
Last updated 29 July 2021
They can do this because they believe that everyday people, working together, can achieve extraordinary things.
Team GB prides itself on bringing together different sports and individuals into one team to scale inspiring heights on the world stage. And the British Red Cross is powered by a movement of volunteers, each making a huge, collective difference through individual acts of kindness.
Both are powered by trust, humility and strong connections. Whether it's a Team GB athlete relying on their coach's support, or someone turning to a Red Cross volunteer to get them through a tough time. From the front line to the finish line, we can achieve so much more when we work together.
At a time when the pandemic has left people feeling lonelier than ever, the British Red Cross and Team GB hope to inspire the nation to come together and look out for each other. Together we will celebrate the power of kindness and support the most vulnerable in our communities.
Get your Game On!
With so much in common, it makes sense for Team GB and the British Red Cross to work together as an unstoppable force. And that's exactly what we've done, with Get Your Game On.
This summer, we're asking people to support Team GB at the Tokyo 2020 Olympic Games by taking on a new challenge to raise funds for the British Red Cross.
Research shows that trying out a new skill and setting yourself personal challenges can be a major boost to your confidence and send your mood sky-high. So, what are you waiting for? Get out of your comfort zone and raise vital funds along the way.
Need some inspiration?
Sally Gunnell takes on a Red Cross challenge
There are always new sports to try, even if you're a gold medallist. Recently, Olympic legend Sally Gunnell, met Red Cross legend, Abi, to join in one of the many activity sessions she runs for young refugees. The challenge? Blind football.
"I've played a little bit of football", said Sally. But doing this blindfolded will be a very different matter."
As volunteer Abi set up the pitch, she explains to Sally that this game of blind football is part of the British Red Cross Surviving to Thriving programme that supports young refugees and asylum seekers.
"During the these sessions, we have activities, or we learn about the different rights they have as refugees in the UK. And we have food and laugh.
"But games like blind football are a really great way to connect. I've seen such joy when we're all kicking about and getting involved. You just forget about other things and play and have a laugh."
"As many of the young refugees involved in our programme have experienced extremely difficult journeys – often unaccompanied – a moment of fun is so important."
There would be no blind football without Abi. She has always been interested in the rights of marginalised communities, which motivated her to work with young refugees. And as she is vision impaired, blind football seemed like a fantastic way to connect.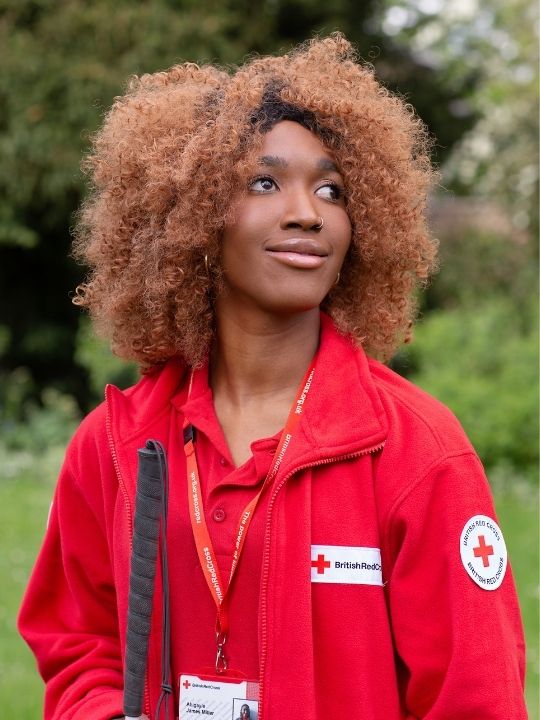 Having grown up in care, Abi easily empathises with the young refugees, who have arrived in the UK on their own, parted from their families.
She says she loves experiencing the difference from the shy, introverted person who first arrives to the more confident young person the project helps them become.
"It's just really rewarding to see them evolve through their time, from the beginning when they first come and they're all shy.
"A lot of the time I'd be sitting with the new person, so I'd be that person that gets them talking to other people in the team and when they make friends within the group that's so nice to see as well.
"It's just so great to see them growing. "Honestly, I love it. I always get so buzzing, I love supporting them so much. It's just such a fun and rewarding experience to be with them all."
How did Sally get on? Watch the video
The healing power of ping-pong
Last year, Adel was suffering from loneliness, and had little confidence – until Nazia from the British Red Cross came along to help her open up.
Through regular phone sessions with Adel, Nazia discovered that Adel had an elderly aunt, Aileen, who was also isolated due to the pandemic. Nazia decided to reach out to her and help Adel stay connected to her aunt.
Nazia sent them a ping-pong set, to encourage them to get active and lift their spirits.
Adel said: "It's been uplifting, and it's been good for mental health. And it's helped me get through this difficult period. And that little phone call every now and again from Nazia, it just means something."
During a recent game of ping-pong, Nazia sat Adel and Auntie Aileen down and handed them her phone.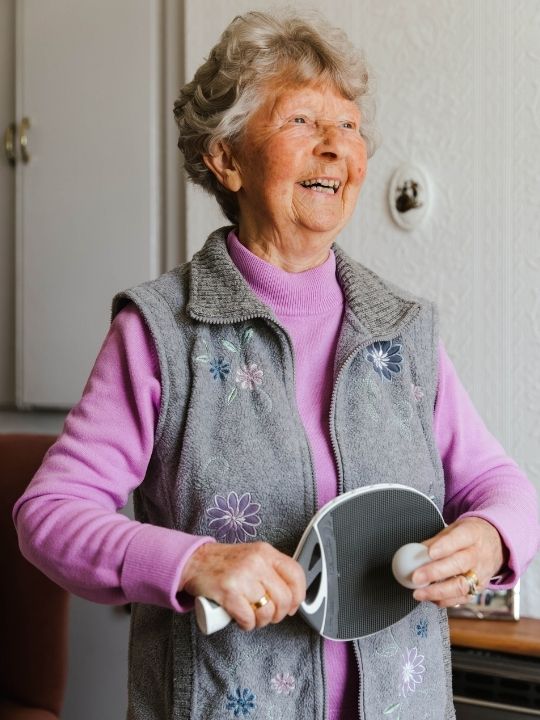 It was a video from Team GB table tennis player, Liam Pitchford, who had taken time out from his Tokyo 2020 Olympic Games training to send them a message.
"I was really happy to hear you'd taken up table tennis during lockdown", Liam said. "It's been a bit of a saving grace for me, and I'm glad to hear it is for you as well.
"It's a great sport to keep the mind active and the spirits up, and if I'm in Oldham, I'll be challenging you to a game as well."
Adel and Auntie Aileen were visibly overjoyed, but Auntie Aileen later warned: "Guess who'll win if he does come over?"
Watch the video
Find out what UK table tennis number one said to Auntie Aileen and Adel.
Are you up for the challenge?
If you're looking for a new challenge after lockdown and want to improve your mental health, then why not Get your Game On? You'll be raising vital funds for the British Red Cross too. Everyone's a winner.
Go to Game On!