Three volunteers, one special place on Brook Street in Hull
This Volunteers Week, how about a role in your local British Red Cross shop? These volunteers, from our shop in Hull, might just convince you to sign up.
Last updated 3 June 2021
After Covid-19 kept us apart for so long, we appreciate those around us like never before. Many of us want to give back and reconnect with our communities, forge new friendships and wave hello.
Here, three of our volunteers explain how working in their local British Red Cross charity shop in Hull has enriched their lives in surprising ways.
From a renewed sense of belonging, to fighting loneliness and feeling accepted, volunteering with the Red Cross has got them through the pandemic and beyond.
People like us
What's it like to volunteer in a British Red Cross shop? It involves lots of colourful markers and one or two dance moves.
Sue's story
"I needed something, and this has filled a big gap in my life."
After losing her husband of 46 years in September 2019, Sue was at a complete loss. She had just retired, and the days stretched before her. She remembered the 'lovely atmosphere' in her local Red Cross shop and so she decided to give volunteering a go.
"The shop has been an absolute lifeline for me. I needed something, and this has filled a big gap in my life. The shop manager is so lovely. She used to make sure I was okay and let me know I could talk to her. And I did."
Sue's role varies from sorting through donated items to serving on the tills. She loves how well organised the shop is and how fresh and clean it smells. But her favourite part is helping customers on the shop floor, and her team, who she calls 'her family.'
"My husband and I never did anything apart. But being around the team has definitely helped me. It's like having a family. We are all different ages and different nationalities. But it's really nice to mix with people you don't normally mix with.
I can't see my own family because of Covid. So this is lovely. I'm not sitting on my own at home being sad. I can forget about that for a little when I come here. It is the best thing I ever did."
Knowing what loss and being alone feels like, Sue is determined to make sure every customer that walks through the door knows that they matter.
"I've been in that same situation. Losing my husband and Covid striking does affect your mental health. I volunteer because I've been through it and I like to help people.
"You can tell by looking at people when they are sad and need cheering."
CJ's story
"It's given me more confidence to talk to strangers"
For 18-year-old CJ, having some kind of structure through the 'madness' of Covid-19 has been a godsend. He signed up in January 2020, just before the pandemic took hold. And he's really glad that he did.
He takes great pleasure in steaming, folding and hanging the clothes, and keeping the shop clean. But what CJ has really got from his role is a massive boost to his confidence.
"I doubt myself a lot," he says. "Customer service has definitely given me a little bit more confidence to talk to strangers in the street.

"Something I'll never forget was my first time on the till. It was scary, but I walked away knowing I finally did it. Every time I do it, it gets a tiny bit less daunting and I feel a bit more confident."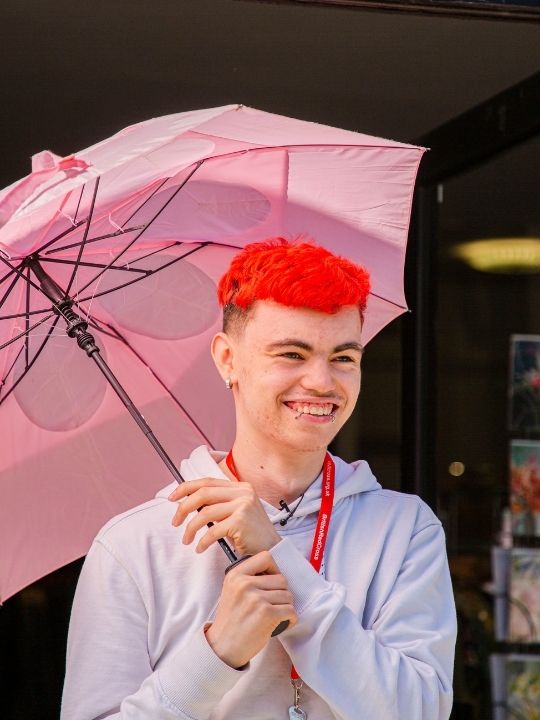 The art, engineering and media student loves talking to the other volunteers about anything and everything, whatever their age or background. And he can tell that his Red Cross shop has long been big part of community life in Hull.
"Pam and Lynne have their regulars that they talk to, and it definitely feels like they have bonded with a lot of people around here.
"People will come in, and they will just have a talk, maybe buy a couple of clothes and leave. It's definitely a big part of a lot of people's lives."

Above all, CJ has really connected with British Red Cross values. He feels that more shops should focus on inclusivity:

"In the British Red Cross, you don't judge people based on this and that. You're here to help everyone. I think every shop should be the same, regardless of if someone has tattoos, piercings, where they come from, and their sexuality.
You shouldn't ever judge anyone. You are, at the end of the day, a human. If you're not hurting anyone, or breaking the law, there's nothing wrong with what you're doing."
Katie's story
"Oh my God, I love it."
Katie, 19, definitely loves volunteering at the shop. It presents a treasure trove of incredible bargains. And they're sustainable too.

"I bought a dress. I'm so excited about this dress. It's really cute. It's like a smock dress. I saw it online for like 40 pound but I got it for three."
Like many people her age, Katie is concerned about the environment.
She's been shocked to learn about the fast fashion industry and the percentage of global carbon emissions these companies are responsible for. Olivia, a customer in the shop, agrees:
"Charity shops are definitely important to the community. It supports people, the charity itself and it promotes sustainable clothing as well," Olivia said.
"One of the issues when buying with big brands is child labour, the working environment and terrible pay. It's important to me to buy second hand or from brands who pay their workers a fair wage and don't exploit cheap labour."
As Katie puts it: "Why put that much stress on the environment? It's nice to buy new things, but it's also important to donate where you can and not just throw things out."
Katie also appreciates that second hand clothes are a lifeline for those in her community.

"Many people will look at a charity shop and think nothing of it. But one person might look at a charity shop and go, that's the clothes I need for my kids."
Katie has observed a lot during her time at the shop. She's noticed that a lot of older people come in for a chat, and it makes her think about her grandma.
"My grandma lives on her own. She goes on what I call charity shop hopping. I have banned her from this one to be fair, because I volunteer here.
"But she really loves charity shops because there is always someone to talk to. The retail shop workers will always be really nice because they're not focussed on commission."
Despite initial reservations, Katie is really glad she volunteered. While her friends went off to uni, Katie didn't fancy starting her course during a pandemic. She is far happier as a result, combining a local animal behaviour course with part-time work at the shop.
"I think volunteering helps build up your CV. We have always been told at college that a lot of employers value volunteering over paid work. This will definitely help me in my university and job applications."
Become a British Red Cross shop volunteer
If you'd like to make new friends, learn new skills and get to know your local community, we'd love to have you on board!
Join us