The blast in Beirut: one month on
The city is beginning to rebuild, but there will be a long road ahead 
Last updated 4 August 2023
Coming to terms with the new normal in Beirut
A month on from the devastating explosion that shook the Lebanese capital, Beirut, people are beginning to come to terms with everything they have lost. Some have lost loved ones, many have lost homes, and an entire area of the city has been completely destroyed.
More than 200 people were killed, 6,000 were injured, and around 300,000 people have been made homeless. Over the past four weeks, the Lebanese Red Cross has supported over 100,000 people with food, clean water, temporary shelter, medical and blood transfusions, and psychosocial support.
When the blast happened on 4th August, staff and volunteers from the Lebanese Red Cross immediately came together from across the country to respond. The initial focus was on search and rescue operations, looking for the people trapped under rubble in the critical first 72 hours.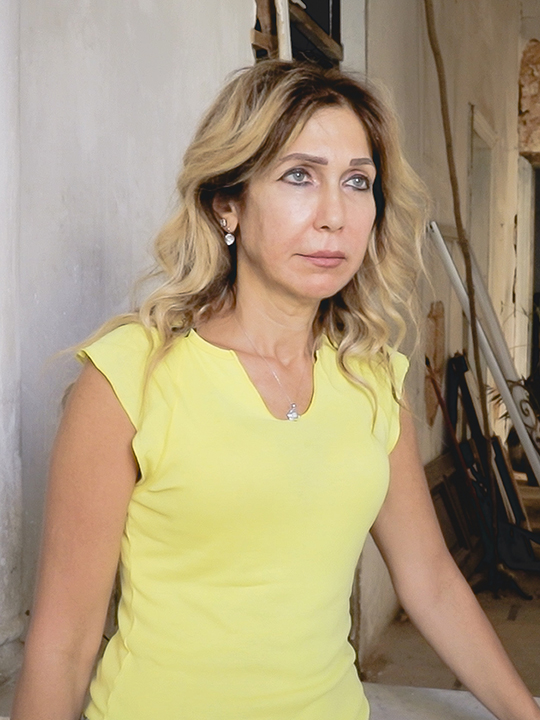 Returning to a destroyed home
Rita, a resident of Beirut, explained what it was like to return home that evening: "It feels like you're having a nightmare," she said. "You were seeing a dream which suddenly turned into a nightmare. I mean everything, everything has been destroyed."
Rita was fortunately not in the city on the day of the explosion, but said it could be heard even where she was, around an hour's drive away.
"We then hurried to our house in the evening to check it. We did not recognise it, it was horrifying… if we were there in that moment, we would have died for sure," she said.
Her house, situated in the historic Gemmayze district near the port, received damage to all its doors and windows, parts of the ceiling and walls, and all the furniture has been destroyed. Many of the buildings in her neighbourhood are over 100 years old and the area is home to a lot of Beirut's nightlife – a source of livelihood which has now been taken away from many.
An immediate response by volunteers
Michael, a Lebanese Red Cross volunteer emergency medical technician based in the Gemmayze ambulance station, was on shift that afternoon and was one of the first responders deployed in the immediate aftermath. Describing hearing the blast itself, he said: "I was thrown into a door and the guys standing in front of me fell onto me – we were thrown back between seven and eight metres."
After checking he and his colleagues were OK, they sprang into action, heading straight for the nearby El-Roum Hospital, where they helped to evacuate patients from the buildings, which had been damaged. "For anyone who didn't see the scene, I wish no one will experience what we've been through."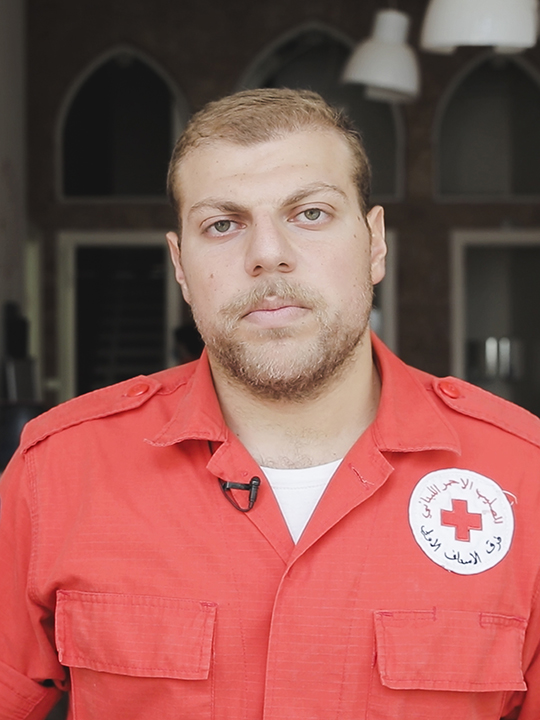 Fellow volunteer Natasha has worked at the same branch for three and a half years and was out in an ambulance with her trainer, Jackie, when the blast happened. The pair immediately drove back to their Red Cross centre.
WE TOOK A BREATH AND STARTED WORKING.
Natasha, Lebanese Red Cross
"When we arrived, there was nothing left," she said. "Nothing. The centre was collapsed. We went inside to check if people were still alive, if they needed any help – it was emotional. But we took a breath and started working."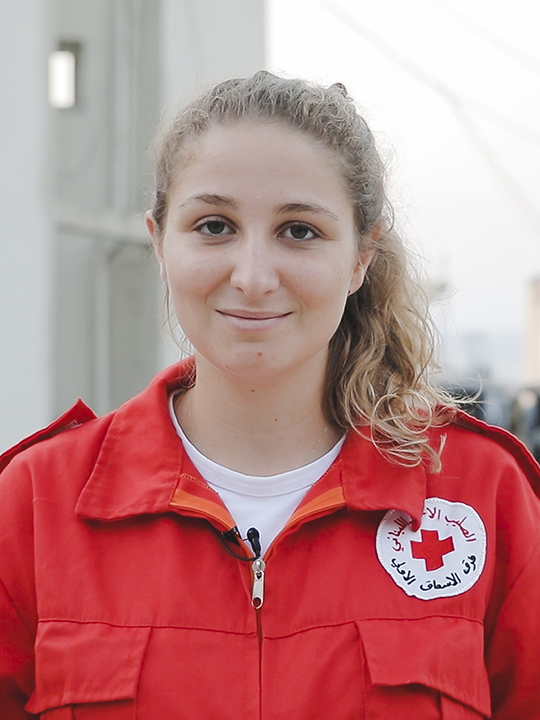 Treating and transporting the wounded
Natasha and other volunteers set up a makeshift trauma centre for people who needed medical attention, and began flagging down cars to help transport the wounded to functional hospitals. "We were working like machines; we could see nothing but only those people who needed help," she recalled. "When we see all these people need our help, as the Red Cross we cannot think of anything else but to help."
Natasha was also thankful for the way the public reacted. "Those people were amazing indeed, they are really amazing," she said. "[They] took those patients to hospital in their cars. I even taught people how to put bandages for the casualties."
As the dust settles in Beirut, the needs are changing but are no less acute. As people move back into their damaged homes, the Lebanese Red Cross's focus will be on supporting these families to rebuild.
They have made visits to every home in the blast area, assessing damage and seeing what people need the most. So far, teams have assessed almost 12,000 homes, finding people living without a toilet, without electricity, and without running water along the way.
They also aim to scale up support to 10,000 families through direct cash support, which will allow families to buy their own urgent supplies. Aside from the effects of the blast, Beirut hospitals remain at capacity due to the Covid-19 pandemic. The Lebanese Red Cross is providing primary health care support in four health centres and through five mobile medical units.
Beirut's most difficult moment
Beirut has seen many crises, but Rita says this is possibly the city's most difficult moment.
"Despite the destruction other wars brought, when we had to rebuild and repair, none was like this one," she said. "Emotionally, this view you saw won't go away from your mind even if this is all rebuilt, even if after hundred years those views you saw [won't go]."
As the people of Beirut begin their road to recovery, the Lebanese Red Cross will continue to support in whatever way they can.