The Ultimate Harry Potter Quiz
A magical evening for the whole muggle family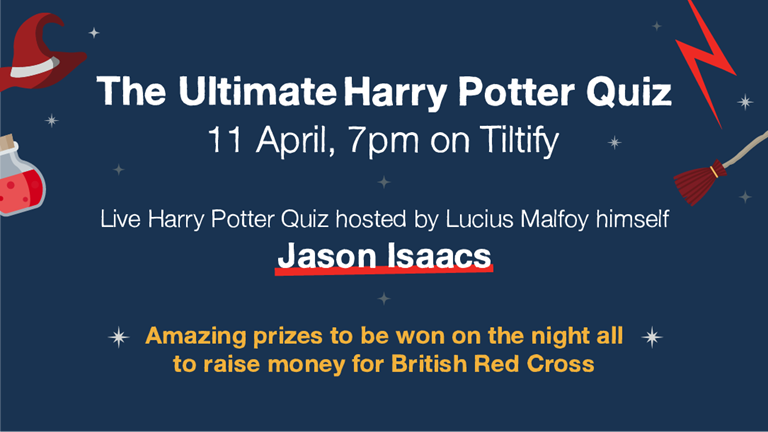 Time:

7 pm BST

Registration fee:

Free to take part

Duration:

Approx. 90 minutes
Thank you to everyone who took part in the quiz! Thanks to your donations, we raised a spellbinding total of £57,000! A huge thank you to Jason Isaacs for his magnificent hosting.
If you missed the quiz, or want to relive the night, you can watch it now on YouTube. Please note the competition has now closed.
Calling all Gryffindors, Hufflepuffs, Ravenclaws and Slytherins!
Join us for The Ultimate Harry Potter Quiz hosted by Lucius Malfoy himself, Jason Isaacs, ambassador of the British Red Cross.
Get your robes and wands at the ready! There will be a whole host of magical prizes to be won on the night, including best dressed all whilst helping people in crisis. Share your photos using @BritishRedCross #BritishRedCross.
It's free to take part and there is no need to register! Join us on Tiltify on Sunday 11 April, 7pm. Let your friends and family know to join in! All we ask is if you're able to, please make a donation to the British Red Cross.
A wizard afternoon tea for two, a ride on the Hogwarts Express, tickets to Warner Bros. Studios London or a Harry Potter Walking Tour for Muggles are just a few of the prizes you could win. Please refer to our Terms and Conditions before entering.
Start planning your enchanting costumes and prepare your portkeys. Muggles welcome.
Got a question? Check out our FAQ's or get in touch at getfundraising@redcross.org.uk.
How to play
1. Form a team with your household, on your own, or with friends and family online.

2. Join us on Tiltify by clicking here (for more information see below).

3. Make a donation, if you can, on our Tiltify page to help people in crisis here in the UK and around the world.

4. Mark yourself (no cheating!)

5. Use the comment box to chat to our host and share your scores on the doors!

How to join
1. JOIN US on Tiltify: (please do not use Internet Explorer). Tiltify is a fundraising platform much like JustGiving and Virgin Money Giving, but it allows you to raise money in inventive ways such as through polls or rewards.

2. DONATE: Click the bright green Donate button, which is either to the right of the host's window, or underneath (depending on your screen resolution) and follow the instructions. We are suggesting a donation of £5 to take part, but please donate what you can, if you can.

3. GET CHATTING! Click 'Show chat' underneath the host's window to view the chatroom. To participate, you must be signed into Twitch (who run the chatroom function) and will be prompted to set up an account if you don't already have one. If you need to sign up, don't forget to verify your account by entering a code sent to you in the confirmation email from Twitch - this might appear in your Junk Folder.
We would like to say a special thank you to the Georgian House Hotel London, West Coast Railways and Tour for Muggles for their generous donations.