Get help finding missing relatives abroad through our international family tracing service if you have been separated by war, natural disaster or migration.
Our free and confidential international family tracing service can help find your family if you haven't been able to contact them yourself.
The service can help if:
you are in the UK
you have been separated by war, natural disaster or migration
We may be able to help in other circumstances where there is a humanitarian need. For example, if you have suddenly lost contact with a relative in the UK or abroad.
Use the search tool below to find your nearest international family tracing service. Please contact a service in just one location. If they can't help, they will refer you to another service that can.
On this page you can find out about:
Find your local missing family service
Philippines - Typhoon Odette/Rai
Are you concerned about family and friends who may be affected by the recent Typhoon in the Philippines?
If the person is a British national, you can contact the Foreign, Commonwealth & Development Office on 0207 008 1500.
If the person is not a British national, please contact the embassy of the person's country.
Please continue trying to call your relative as connections may resume at any time.
However, if you are concerned about relatives in the Philippines, please send a message, with your name and contact number to tracing@redcross.org.uk A member of our team will be in touch to follow up.
How the international family tracing service works
Our international family tracing service may be able to help you:
find your missing family
send a message to your family (but not money or packages)
get a certificate of detention for people who have been imprisoned.
We help families reconnect with loved ones who have lost contact because of an armed conflict, migration, and natural disaster. This includes finding partners of people who are not married and those looking for their same-sex partners.
We will need your consent to share your information when looking for your family.
Find out more about the international family tracing service (PDF)
What will happen at your appointment?
If you're ready to find missing family, you can search for your nearest international family tracing service to make an appointment.
In the appointment:
We will ask questions about your relative and where you think they might be.
We'll help you to fill out a form.
If you can't speak English, we can provide an interpreter.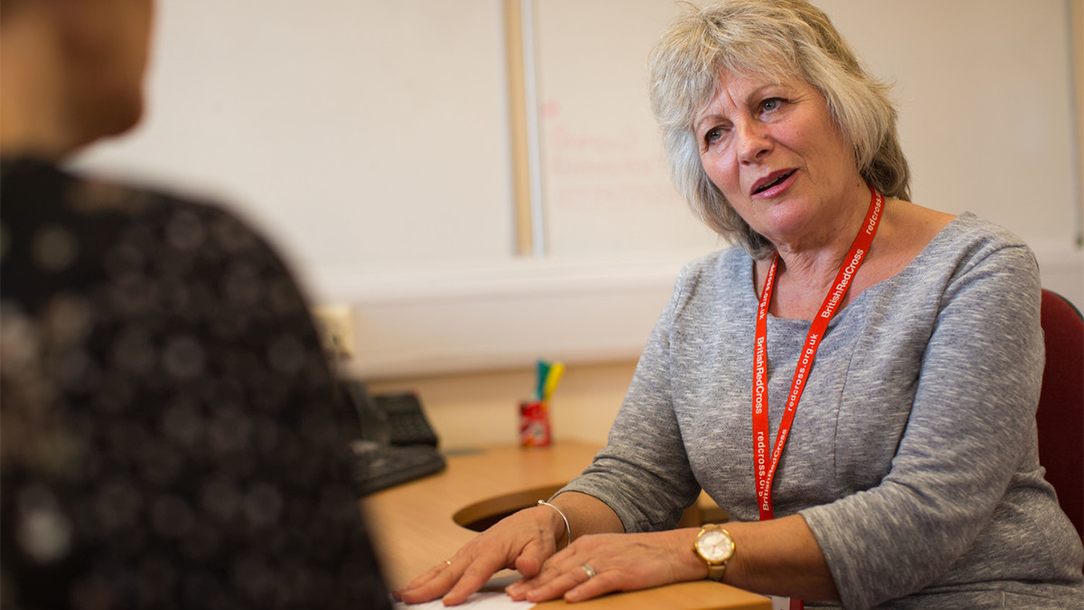 Working internationally
`We work with other Red Cross and Red Crescent organisations around the world to find people in their countries. Please remember that:
It is likely there will be reduced capacity or ability for other Red Cross and Crescent Societies to respond to tracing enquiries due to global coronavirus restrictions. These will be evaluated on a case-by-case basis.
In countries where there is armed conflict, staff and volunteers could be put at risk when trying to find missing family members. For this reason, we ask that you use our service only if you want to restore contact with your relatives.
We can't promise to find your relative, but we'll contact our colleagues in that country and let you know as soon as we get any news.
You can also check if your family are looking for you and add your photo to our Trace the Face website.
If you are a refugee, we may also be able to help you reunite with your family in the UK.
Changes to our service
Following government advice, we have now stopped all face-to-face appointments and have been supporting people on the phone or online where possible.
We are now only able to offer appointments by phone or video call. Please be assured that we are working hard to continue supporting people through this time, while managing the need to keep everyone safe.
Please keep checking this page for updates.
How one family found each other again
When Faridun and his family were forced to leave Afghanistan, their search for safety kept them apart for four years.
Until one day last year, when one of his sons stepped into a Red Cross family tracing office.
How to trace missing persons in Afghanistan
If you have family affected by the current situation in Afghanistan, our International Family Tracing service might be able to help.
If you know someone in the affected areas, please try to contact them in the usual way, such as by phone, social media or email.
If you cannot contact them in this way, please get in touch with your local Family Tracing office who may be able to help.
The International Committee of the Red Cross in Afghanistan and the Afghan Red Crescent Society are now prioritising tracing requests linked to the situation from August 2021.
Please be aware that tracing is now suspended for new cases related to loss of contact before August 2021. We will post any further updates about tracing on this page.
How to get family out of Afghanistan
For information on how to request assistance for the evacuation of vulnerable family members in Afghanistan, and for the Afghan resettlement scheme, please visit the dedicated UK government web page.
This page gives information for British nationals and non-British nationals in Afghanistan, and for people who may be relocated to the UK under the Afghan Relocation scheme (ARAP).
Looking for family or friends during an emergency
If you are concerned about family and friends who may be affected by the following emergencies:
the recent typhoon Odette/Rai in the Philippines
boat sinking in the English channel on 24 November
the earthquake in Haiti
conflict in the Tigray region of Ethiopia
conflict in Eritrea
Or other emergencies around the world, you can take the following steps:
Outside of the UK and concerned about the channel boat sinking?
If you are not in the UK and feel concerned about people who may have been affected by the boat sinking in the English channel, you can contact the French Red Cross Family Tracing service.
Looking for family or friends in Assab, Eritrea
We are now unable to send requests for tracing in and around the city of Assab. Please check this page regularly in case the situation changes.
If you don't live in the UK, how can you still get help to find your family and friends?
If you can't use our service because you don't live in the UK, you can contact the Red Cross or Red Crescent in your country.
There are also other organisations who may be able to help you if we can't.
Tips for keeping in touch during the coronavirus pandemic
There are lots of things you, your family and friends can do to keep in contact and look out for each other at this time.
This includes thinking ahead in case one of you gets ill.
Set up regular calls with family or friends, especially if you or they live alone.
Create a written list of your next of kin/close family or friends to be contacted in an emergency. Include their names, phone numbers and addresses. Keep your emergency contact list in your wallet or purse.
Make sure your family members and emergency contacts know your current phone number and home address.
If you are living far from your family members, have the contact details of their neighbour or someone else who is in touch with your relatives.
Write the phone number of other family members and give it to your children so your children can contact them if you become ill.
If you are ill and need to go to hospital remember to take your phone and charger.
Share these tips with others!
Other helpful tips:
If you have any prescription medication make sure it will be easy to find details of this and any allergies, for example with your emergency contact list.
Have you discussed your wishes with your family members and emergency contacts, if you were seriously ill due to coronavirus?
We have worked with Doctors of the World and other organisations to produce information on coronavirus in multiple languages

.
You may also want to get: