Preparing for disasters and epidemics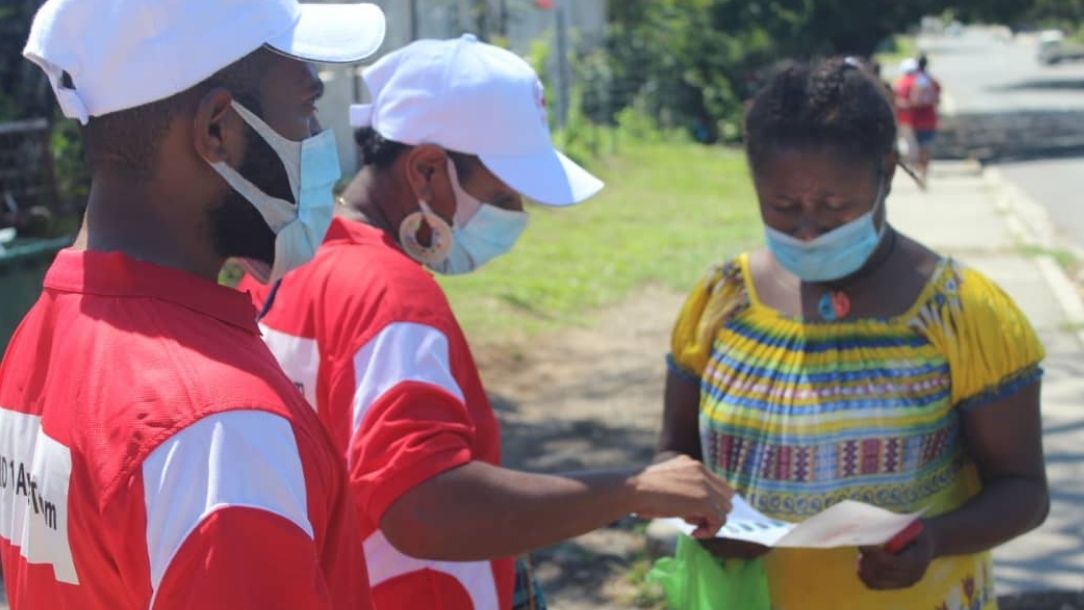 The British Red Cross has been working closely with the Guinea Red Cross since 2015, mainly focussing on preparing for natural disasters, epidemic outbreaks and improving health among young mothers and babies.
New Ebola outbreak declared
On 14 February 2021, a new Ebola outbreak was declared in Guinea in the rural, border community of Gouéké, N'Zerekore prefecture.
This comes at a time when the country is already facing increased health, social and economic challenges as a result of the Covid-19 pandemic.
It's the first outbreak since the Ebola crisis in 2014-2016, which killed 11,300 people across Guinea, Sierra Leone and Liberia and remains the world's worst recorded Ebola outbreak to date.
We know time and coordination is critical to contain and prevent further spread of the virus. An effective track and trace system is needed to identify people who may have come into contact with someone infected with Ebola.
DONATE TO OUR INTERNATIONAL RELIEF FUND
Working with communities
Early engagement with communities is also essential to ensure they understand the risks and protective measures to take, including accessing vaccinations.
Guinea Red Cross can draw upon their experience and expertise from the previous outbreak, where they reached an incredible two million people with information and support.
Two thousand Guinean Red Cross volunteers worked in communities, disinfecting homes, teaching people how to protect themselves from infection, and conducting safe and dignified burials.
IFRC and Guinea Red Cross have already activated their "epidemic preparedness and response network" in the country including 2500 volunteers. Red Cross staff and volunteers will provide services such as, contact tracing, psychosocial support, water, sanitation and hygiene and safe burials.
The British Red Cross is closely following the situation and discussing with humanitarian partners how to best support the Ebola response in Guinea, and potentially in neighbouring countries, including Sierra Leone.
Better support for communities during disasters
Guinea is a country that is very exposed to a range of disasters. On top of Ebola outbreaks, the country is frequently faced with flooding, landslides, cholera epidemics and conflict.
The British Red Cross works with the Guinea Red Cross to provide better support to communities affected by disasters. By training disaster response teams and giving them the right equipment, we help them get ready to take immediate action when an emergency occurs.
We also help them develop disaster plans in advance and make sure that trained volunteers get to communities as soon as possible.
Preparing for disasters in this way means that the people and communities are better protected and the impact of disasters will be less serious
Healthy mothers and healthy babies
From 2015 to 2018, The British Red Cross worked with the Guinea Red Cross to help mothers and babies to stay healthy. We worked to increase knowledge of and access to reproductive health services in its target communities, and to improve epidemic surveillance.
Guinea is one of the most difficult places to become a mum. For every 100,000 births, 650 mothers die during childbirth. This compares to just eight in the UK. Many babies also die at birth. For instance, while there are 65 infant deaths for every 1,000 babies born in Guinea, in the UK there are only four.
Even before the Ebola outbreak, Guinea had a weak health system, particularly in the countryside. Battling the Ebola outbreak strained resources even further.
In addition to this, sadly, some women don't use the existing health services because they don't understand the need for medical care, or the kind of help they will get.
Trained health workers make a difference
The British Red Cross worked with the Guinean Red Cross to expand a successful project that supports safe motherhood and sexual and reproductive health and rights.
The project trained 87 health workers to provide better care for their patients, young and old. Another group of 92 health workers have learned how to help people understand why they should use health services in pregnancy and birth. They also visit people's homes and run training sessions to teach people about their right to health care.
Safe delivery: innovative app supports healthy motherhood
Health workers also use an innovative 'Safe delivery' app developed by the Maternity Foundation. It helps train medical staff in how to deliver babies safely including medical advice for any issues that come up before, during and after a birth.
In addition, the app is a helpful guide for parents and anyone interested in getting a better understanding of pregnancy, birth and care after the delivery. Awareness sessions were organised with the community to help people talk about sexual and reproductive health rights.
We also supported the training of 60 community leaders in understanding and mitigating the risks linked to sexual health and gender-based violence so they can share this knowledge with their communities.
Meetings with 2,000 young people and their parents covered topics such as contraception, child marriage and people's rights.