Haiti earthquake responses by the British Red Cross
The Haiti Red Cross is responding to a second deadly Haiti earthquake, carrying out urgent search and rescue operations, providing first aid and emergency shelter. The humanitarian crisis in Haiti has worsened since Tropical Storm Grace hit the island.
(Last updated Tuesday, 9 November 2021)
Second powerful earthquake strikes Haiti
On 14 August, a 7.2 magnitude earthquake devastated Haiti about seven miles from the town of Saint-Louis du Sud, causing significant damage and affecting 2 million people.
Haiti, a Caribbean island just south of Cuba, is still recovering from a deadly earthquake which slammed the island in 2010.
Haitian Red Cross staff and volunteers are carrying out urgent search and rescue operations to find survivors in the rubble.
The British Red Cross has launched an appeal to support the Haiti Red Cross response.
Effects of Haiti earthquake
2,207 people have now died in the earthquake, which happened on Saturday, 14 August 2021
A further 12,268 people have been injured, with numbers expecting to rise
320 people are missing, and over 800,000 affected by the earthquake
The earthquake has caused extensive damage in the southern part of the country with 53,000 houses destroyed and 73,000 severely damaged, along with 127 schools
Dozens of hospitals and health centres in Grand'Anse, Nippes and Sud departments are damaged
With over two thousand dead, people still trapped, the situation is extremely serious. As the picture unfolds, we must be prepared for the death toll and situation to get worse.
Richard Blewitt, Director of International at the British Red Cross
How is the Red Cross helping people in Haiti?
The scale of the destruction is immense. As well as the huge humanitarian impact, the earthquake has destroyed homes and damaged hospitals, roads and bridges.
Hospitals and medical centres - already overwhelmed by Covid-19 - have been destroyed, with many injured being treated in the open or under makeshift shelters.
Support from across the Movement
Red Cross emergency specialists are currently being deployed to Haiti to assess the damage and support the immediate response. They will focus on those affected, especially the most vulnerable, such as women, children, the elderly and people with disabilities. Currently:
S

ix Red Cross ambulances

are transferring patients that have been evacuated from the affected areas to health care facilities in Port au Prince

25,000 people and 5,000 families reached with essentials,

such as blankets, buckets, tarpaulins, kitchen kits, and hygiene kits in the Sud and Nippes departments

32 volunteers mobilised to Restore Family Links

in the four affected departments (Ouest, Sud, Grand'Anse and Nippes
Teams from the Haitian Red Cross and the International Federation of the Red Cross and Red Crescent will continue to coordinate damage assessments, and provide aid, especially in the southern part of the country.
Aid has now arrived from our regional hub in Panama. The cargo flight landed on 19 August with 37 tons of aid including shelter kits, tarps, jerrycans, kitchen sets, blankets, PPE and mosquito nets.
The plane then headed back to Santo Domingo, Dominican Republic, to reload with more humanitarian aid. IFRC also sent 15 tons on 18 August by boat (via the French Navy). The ship arrived 21 August to Port au Prince and the aid was sent on to Les Cayes and Jeremie.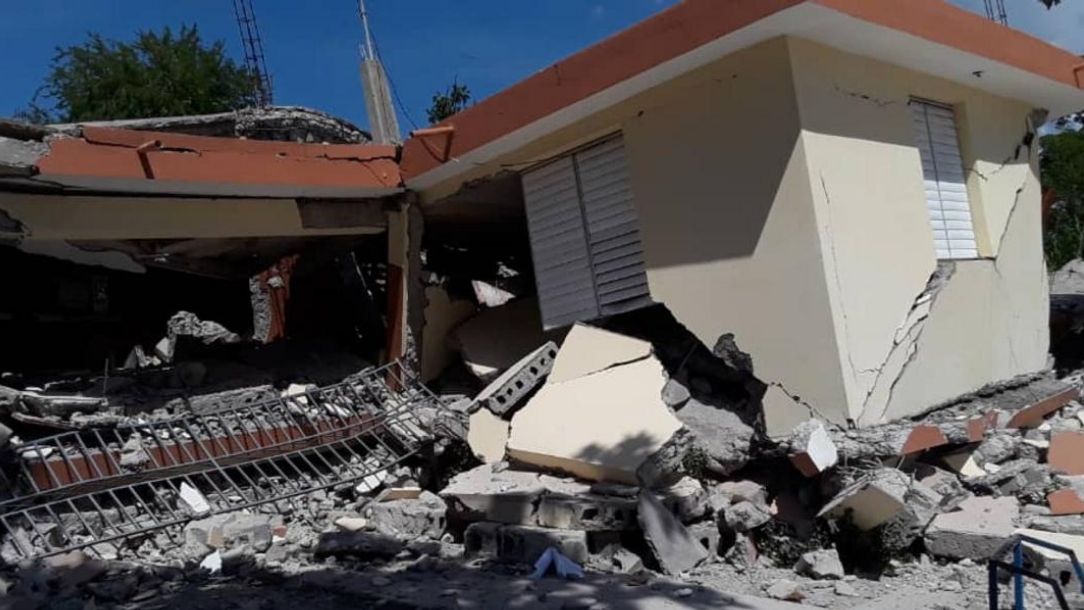 What are the main challenges in Haiti?
Heavy rains and floods caused by Tropical Storm Grace struck the same areas hit by the earthquake. This has brought additional landslides and floods and further hampered rescue efforts.
Red Cross logistics experts are working hard to get aid into the affected area, and extra logistics support has arrived.
Where the roads are blocked by landslides, or too damaged or unsafe to cope with heavy truckloads, alternatives such as air and sea are being used. But it is still hard to get out to more rural areas.
Additional trucks are being serviced and supplied from Santo Domingo, to alleviate pressure on truck stock in Haiti.
How does the 2021 Haiti earthquake compare to the Haiti earthquake in 2010?
Sadly, at 7.2 magnitude, the Haiti earthquake in August 2021 is more powerful than the earthquake which struck Port-au-Prince in 2010 at 7.0 magnitude.
Red Cross workers from across the world travelled to Haiti to help. The emergency response became the largest single-country operation in the history of the Red Cross.
Thankfully, the 2021 Haiti earthquake has hit a more remote area than Port au Prince. However, assessments and search and rescue is ongoing, and the death toll likely to increase.
Haiti earthquake 2010: Red Cross emergency response in numbers
226,030 households given essentials such as blankets, cooking equipment and mosquito nets
229,977 people treated in Red Cross emergency health-care facilities
195,160 households given food supplies
1.2 billion litres of drinking water distributed
149,204 cubic metres of rubble removed
81,716 households given financial support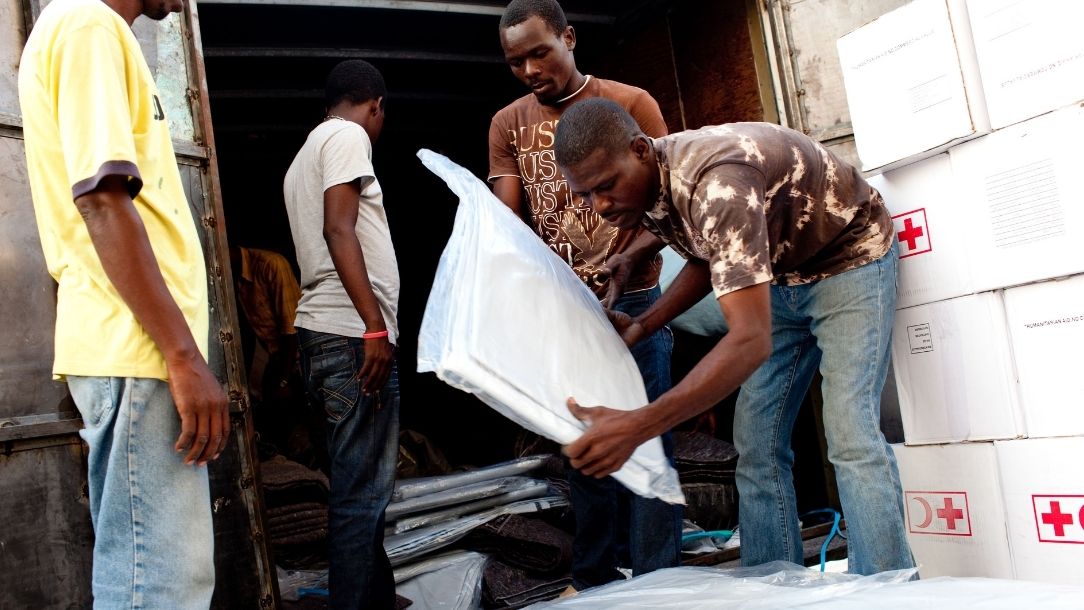 Why are the earthquakes in Haiti so powerful?
According to the National Geographic, Haiti sits near the intersection of two tectonic plates that make up the Earth's crust. When these plates move together and create friction, an earthquake can happen.
As Haiti is the poorest nation in Latin America, its buildings are not strong enough to withstand earthquakes. In this case, the country was still recovering from the enormous earthquake in 2010 and was especially vulnerable.
Haiti is also a highly populated island so when disasters occur, the devastation is extreme.